President Samia drops 37 district commissioners in sweeping changes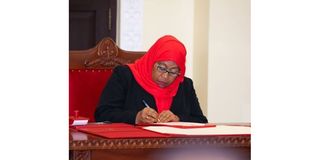 Summary
Most notable faces of those dropped by President Samia include; Gabriel Zakaria (Busega), Jerry Muro (Ikungi) and Msafiri (Kibaha), and Martha Mkupasi (Chato).
Dar es Salaam. President Samia Suluhu Hassan has on Wednesday January 25, 2023 made major changes of district commissioners, appointing 37 new faces, transferring 48 and retaining 55 others.
In the changes some of known ruling party CCM cadres including former publicity Secretary Shaka Hamdu Shaka and Mboni Mhita have been named in the new appointments.
In a statement signed by the director of Presidential Communications, Ms Zuhura Yunus, President Hassan has appointed Shaka Hamdu Shaka as new DC for Kilosa replacing Majidi Mwanga.
Former Handeni Rural MP Ms Mboni Mhita has been appointed DC for Kahama replacing Festo Kiswaga.
In other new appointments state broadcasting corporation news anchor Grace Kingalame will serve as district commissioner of Nyang'halwe.
Jaffar Haniu the former director of State House communications will now serve as district commissioner of Rungwe.
The following are the newly appointed district commissioners with their work stations in brackets;
Felician Mtahengerwa (Arusha), Marko Ng'umbi (Longido), Emmanuel Mtafikikolo (Arumeru), Gerald Mongella (Chemba), Kanali Magembe (Geita), Leah Ulaya (Mbogwe), Deusidedith Katwale (Chato) and Linda Salekwa(Mufindi).
The list also includes; Abel Nyamahanga (Muleba), Japhary Maganga (Kyerwa), Erasto Sima (Bukoba), Julius Laiser ( Karagwe), Dinah Mathamani ()Uvinza), Christopher Timbuka (Siha), Amir Mkalipa (Hai), Kasilda Mgeni (Same), and Goodluck Mlinga (Liwale).
Christopher Ngubiagai (Kilwa), Beno Malisa (Mbeya), Josephine Manasa (Kyela), Rebbeca Msemwa (Morogoro), Rachel Kasanda (Magu), Hassan Bomboko (Ukerewe), Victoria Mwanziva (Ludewa), Colonel Joseph Kolombo (Kibiti), and Zephania Sumaye (Mafia).
Also; Lazaro Komba (Kalambo), Jane Nyamsenda (Sumbawanga), Wilman Ndile (Songea), Farida Mgomi (Ileje), Solomon Itunda (Songwe),  Zakaria Mwansansu Uyui and Naitapwaki Tukai (Nzega).
Most notable faces of those dropped by President Samia include; Gabriel Zakaria (Busega) Lupakisyo Kapange (Bariadi), Jerry Muro (Ikungi), Frank Mwaisumbe (Monduli), Jamhuri William alikua (Nyang'hwale), Willison Shimo (Geita), and Martha Mkupasi (Chato).
Also dropped are Siriel Mchembe (Handeni) Aswege Kaminyoge (Maswa), Sara Msafiri (Kibaha), Saimon Mayeka (Chunya), Ismail Mlawa (Kyela) and Pololet Mgema (Songea).
Following the Wednesday reshuffle of district commissioners by President Hassan, Tanzania now has 40 female District Commissioners out of a total of 140, equivalent to 28.5 per cent.
"Among the 140 DCs, 40 are women and 10 are men," the state house statement reads in part.
Since she assumed the power in March, 2021 following the death in office of her predecessor John Magufuli, President Hassan as treading carefully as she builds her own team, consisting of people she believes can head ministries, departments, agencies, regions and districts as per her expectations, and at the same time trying to bring on board more women in powerful positions.