President Samia: Two years of shaping Tanzania political space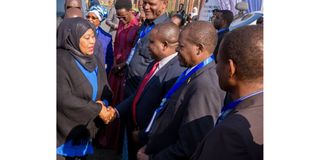 What you need to know:
As the country prepares for elections in 2024 and 2025 the opposition is taking full advantage of the newfound political space that gives them room to manoeuvre
Dar es Salaam. The swearing-in of Samia Suluhu Hassan as President on March 19, 2021, undoubtedly left the people, especially political pundits, wondering if the new leadership would have a different modus operandi.
The debate focused mainly on opposition demands for a new constitution, an independent electoral body, and restrictions on public political activity, including the ban on rallies.
However, two years later, the political sphere has witnessed unexpected positive changes.
When she assumed the presidency, President Hassan promised to bring about national reconciliation. Months later, she created a task force to coordinate citizens' opinions on multi-party democracy, which submitted its report on October 21, 2022, with various recommendations.
The government-backed taskforce on political reform, among other things, suggested that public meetings be allowed, a new constitution be formulated, and that a special committee be established to start the process of collecting and analysing the opinions of stakeholders regarding the new Mother Law.
As part of efforts to usher in a new political era in Tanzania, the Head of State launched her 4Rs philosophy: Reconciliation, Resiliency, Reforms, and Rebuilding. This is an initiative that led her to scrap a seven-year ban on political rallies imposed by her predecessor, John Magufuli, as suggested by the task force.
Opposition parties have been complaining for years about the lack of a level political playing field, especially during elections. In fact, according to stakeholders, the political goal posts were completely changed during the Magufuli era, when the civic and political space was closed down.
However, since the new government under President Hassan took over, the political distress left by Magufuli seems to have formed the basis of the reform debate.
President Hassan says work has already begun on improving the electoral law, while her government is also ready to start formally working on proposed constitutional changes.
The Head of State's decisions paved the way for what is shaping up as a busy and intriguing year of politics.
A gift towards upcoming polls
As the country prepares for civic polls in late 2024, followed by the General Election in 2025, opposition parties are now taking full advantage of the newfound political space that gives them more room to manoeuvre.
The President's decision to turn around Tanzania's politics has indeed offered the opposition a chance to challenge the ruling CCM's traditional dominance before the actual voting gets underway in the coming two elections.
"It has been two years since the start of a new era. Now the opposition parties have a chance to meet and involve their supporters before the election time," says Dr Amos Mpole, a political science expert in Dar es Salaam.
Dr Mpole told The Citizen in an interview yesterday that just by removing the controversial ban on rallies, President Hassan as CCM chairperson, boosted her own popularity ratings within the country by a large margin. This could prove to be a huge boost as she eyes her first electoral bid for the top job that she inherited after Magufuli's death in March 2021.
"The ruling party has also gained in terms of improved image. The two years have been filled with the strengthening of democracy, which is also an opportunity for CCM to gain more support," he explained.
On the same note, the National Chairman of the Civic United Front (CUF), Prof Ibrahim Lipumba was quoted in May 2022, quoted as saying that President Hassan had a significant chance of winning the 2025 General Election because of her role in pushing for good governance, democracy, and people-centred development.
Opposition applauds the move
After an all-parties meeting in Dar es Salaam where President Samia announced the ban reversal towards the end of last year, the opposition Chadema Party chairman Freeman Mbowe described the president's move as "positive."
Read: Samia chairs first meeting between CCM, Chadema leaders
"She also mentioned getting the constitutional reform process underway soon... For us, the most important thing she (the president) said is that the law review will be done in a fully participatory manner," noted Mr Mbowe.
Further, leaders of the 19 registered opposition parties that attended the meeting saluted the Commander-in-Chief, with some pointing out that political rallies have always been legal under Tanzania's Constitution.
ACT-Wazalendo leader Zitto Kabwe said the President deserved praise for showing a willingness to "walk the talk in her reconciliation drive."
"We know public rallies are our constitutional right. But we also know this right was illegally taken away by a sitting president... It has taken another sitting president to bring us back to normalcy. We as the opposition appreciate the gesture," said Mr Zitto.
"It has not been an easy process even getting to this point. But now we can look forward to a year of real changes on the political front as we all work to put this country back on the rails of democracy," he added.
It is through the leadership of President Hassan that some prominent politicians who fled the country for fear of their safety have been able to return and continue their political activities.
Those who have come back include the vice chairperson of Chadema, Tundu Lissu, who was also the party's flag bearer in the 2020 General Election.
Mr Lissu fled to Belgium after surviving an assassination attempt. Another is a former member of parliament for Arusha Urban, Mr Godbless Lema, who has also returned to the country from Canada, where he had taken refuge.
And when he addressed a public rally shortly after jetting in from Canada on Wednesday last week, Godless Lema narrated how his life was in danger during the Magufuli regime, forcing him to run to exile.
He said he decided to take the threats against his life seriously to avoid the fate that befell some of his colleagues, including Mr Lissu and several others.
On September 7, 2017, during a parliamentary session break, Tundu Lissu, while in his car, was shot multiple times and seriously injured by unknown assailants in the parking lot of his parliamentary residence in Area D, Dodoma.
And Mr Lema, who lost his Arusha Urban Parliamentary Seat in the 2020 elections, said on Wednesday that before the assassination attempt, Mr Lissu was warned.
"One day before an assassination attempt, Tundu Lissu was informed by some people that when he goes to Dodoma, he will be assassinated," narrated Mr Lema.
Mr Lema detailed several other Chadema leaders who were informed in advance before they met their fate. He also detailed how he was arrested together with the party's national chairman, Freeman Mbowe and former Ubongo Municipal Mayor, Boniface Jacob, on the eve of the planned demonstrations to oppose the outcomes of the 2020 General Election.
He poured praise on President Hassan, who waved at the opposition party's supporters who had arrived at the Kilimanjaro International Airport (KIA) to welcome Lema's homecoming.
The President arrived at the airport on her way to Arusha where she had several official government businesses to attend to.
"When I was at the airport, I saw many people... I was told Mama [President Hassan] passed here and she waved at the people who had come to welcome you….The police have escorted us from the airport to this place….Under this new environment, whenever you address a public rally, you become selective of your words towards the President because she has shown enough respect for democracy," he said.
According to Dr Juma Bundala, a political analyst, President Hassan's Reconciliation, Resiliency, Reforms, and Rebuilding philosophy has been a prerequisite and necessary tool in addressing contemporary issues affecting the country's social, political, and economic systems.
He noted that it was also clear in President Hassan's editorial published by various media outlets on July 1, 2022, in which she emphasized the 4Rs as her top goal in improving the country's multiparty political system.
"The 4Rs will continue to enable varied groups in our society that hold opposing views on numerous religious, social, political, and economic problems to unite on causes of national interest and development at large rather than the specific interests of the organizations with whom they are aligned," he noted.
Further the President has recognized the need for adjustments and reforms in the political, social, and economic institutions, as seen by her recent decision to examine the police force and other state apparatus as a means of rebuilding the country.