Romanian president wraps up four-day visit to Tanzania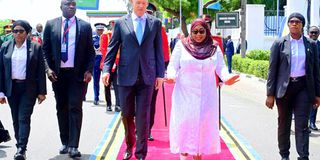 What you need to know:
President Iohannis said Tanzania is one of the strategic countries as Romania plans to expand its international relations with Africa.
Dar es Salaam. Romanian President Klaus Iohannis has concluded his four-day maiden tour of Tanzania on Thursday, November 16, 2023.
President Samia Suluhu Hassan bade Mr Iohannis farewell at State House in Dar es Salaam, where the Romanian leader inspected a guard of honour.
He later departed for Senegal before and is expected to conclude his tour of the continent by visiting Cape Verde. This is in accordance with the Romania and European Union (EU) mission to strengthen bilateral ties with Africa.
Last Friday, President Iohannis was hosted at State House in Dar es Salaam by President Hassan and the two leaders held talks before addressing a joint press conference.
President Hassan said the two sides have agreed to strengthen bilateral cooperation in the areas of agriculture, health, education, disaster management, mining and diplomacy.
"It's historical. Our meeting involved issues that are important to both of us, and we have agreed to jointly take action towards cooperation in strategic areas," she said.
"We have talked about available opportunities in the health and pharmaceutical manufacturing, agriculture processing as well as potentials we have in experience sharing in the sectors of agriculture, mining, and disaster management," President Hassan added.
She revealed that the two leaders have also discussed the need of increasing education scholarships opportunities to Tanzanians expecting to excel in the fields of medicine and pharmaceuticals
For his part, President Iohannis said Tanzania is one of the strategic countries as Romania plans to expand its international relations with Africa.
"Here in Tanzania, we have been able to negotiate partnerships on strategic areas that need to be managed in the future. We want to strengthen our ties, therefore, I have invited President Hassan to Romania to further expand these talks," he said.
At the Zanzibar State House in Unguja, President Hussein Ali Mwinyi told the visiting Romania leader and his delegation on Saturday that the Island had numerous untapped potentials in the area of blue economy.
"Therefore, Romanian investors are cordially welcomed to invest in the areas of hospitality and the blue economy that holds the future of the Island's economic prosperity," he said.
President Iohannis said the two countries enjoy marvellous democratic growth as they share similar historical backgrounds.
He said the two countries have long term historical cooperation and friendships, noting that Zanzibar was a favourable investment destination, therefore the invitation that has been extended has been positively received by the government of Romania and its companies.