Tunduma border post gets new X-ray scanner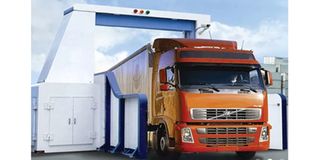 Summary
The Sh6 billion scanner, is capable of handling up to 120 lorries per hour.
Dar es Salaam. A new X-ray cargo scanner has been installed at the Tunduma One Stop Border Post (OSBP) as part of efforts to eliminate queues at the Tanzania-Zambia border.
The Tunduma border accounts for the lion's share of goods in transit that pass through Tanzania's ports.
Apart from handling goods destined for the Democratic Republic of Congo (DRC) and Zambia, the Tunduma OSBP also handles goods to Zimbabwe that pass through Tanzania's ports.
The launch of X-ray cargo scanner operations at the Tunduma OSBP is expected to promote the efficiency and effectiveness of border crossing processes, according to a statement issued by TradeMark East Africa (TMEA).
"This scanner is set to contribute to a reduction in clearance time at the border by cutting waiting times and customs clearance processes, including 100 percent physical verification of cargo. It will further reduce the time to cross the border by 30 percent," the statement says.
Procurement of the scanner worth $2.692 million (about Sh6.222 billion) was funded by the Foreign, Commonwealth and Development Office (FCDO Tanzania), Embassy of Ireland and the Norwegian Embassy in Tanzania through TMEA.
The scanner, according to the press release, is capable of handling up to 120 lorries per hour.
Finance and Planning permanent secretary Emmanuel Tutuba said the new development was in line with the government's implementation of the blueprint for regulatory reforms.
"This includes business across borders with the aim of improving the business environment, increasing local and foreign investment and promoting economic growth," he said.
Songwe Region Commissioner Waziri Kindamba said during the launch ceremony that the scanner would help to eliminate queues in Tunduma Town and simplify cargo inspection at the border.
Tanzania Revenue Authority Commissioner General Alphayo Kidata said, "The Tunduma OSBP facility, including the non-intrusive inspection systems financed by TradeMark East Africa, have set the highest standards for all our OSBPs, and will be used as a benchmark for all our future OSBPs."
Going by the Time and Traffic survey report of April 2021 conducted by TMEA, the average traffic passing through Tunduma OSBP per day is 209 vehicles and it takes an average of 30.15 hours to cross the border for inbound cargo.
For outbound cargo the average traffic is 243 vehicles per day and it took an average of 37.51 hours to cross the border.
The value of imports via the border rose to Sh519.797 billion during the 2021/22 fiscal year from Sh428 billion during the preceding year.
Likewise, exports rose to Sh674.584 billion during the 2021/22 fiscal year, from Sh610.581 billion during the 2020/21 financial year.
On the same note, the amount in revenue rose by 26 percent to Sh96.45 billion in 2021/22 from Sh76.535 billion.
TradeMark East Africa Country Director for Tanzania Monica Hangi said: "TMEA's ambition has been to make Tunduma OSBP a state of art OSBP equipped with required customs and inspection facilities that include the installation of both body and baggage scanners."