UN agency, Tigo agreement a boon for women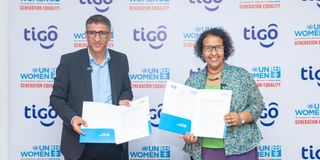 What you need to know:
A partnership will empower and equip young women and girls with science, technology, engineering, and mathematics (STEM) and digital literacy skills.
Dar es Salaam. UN Women Tanzania has signed a memorandum of understanding (MoU) with a telecom company, Tigo, for a partnership to empower and equip young women and girls with STEM (Science, Technology, Engineering, and Mathematics) and digital literacy skills.
This, according to the United Nations, came at a time when enrolment in science subjects shows a significant gender gap, with fewer girls than boys participating, and women are markedly underrepresented in science and engineering professions.
Speaking during the signing ceremony today, November 21, 2023, UN Women Tanzania Representative Ms Hodan Addou emphasised the importance of integrating young women and girls into the ICT sector as a necessary element to increase women's representation in STEM-related fields.
The collaboration will focus on developing coding, robotics, and digital entrepreneurship skills for young women and girls, both in and out of school.
"When women participate in ICT, they bring diverse perspectives that are crucial for innovation and improved outcomes. This partnership with Tigo is not just about levelling the playing field but crafting an environment where women have equal opportunities to learn, excel, and lead," she said.
Tigo's chief executive, Mr Kamal Okba, said that in a world driven by innovation and digital connectivity, no one must be left behind.
 "Tigo's commitment to providing training on digital literacy, coding, and robotics, along with the donation of high-speed 4G and 5G internet connectivity, reflects our dedication to a more inclusive and digitally empowered future," he said.
According to the two parties, the programme will include advanced IT training through coding camps, mentorship programmes, and incubation with tech-driven start-ups, aiming to enhance their employability, entrepreneurship abilities, and access to further education for economic empowerment.
The Tigo boss said this collaboration with UN Women under the African Girl Can Code Initiative marks a significant step towards impacting more girls and young women, contributing to the reduction of the skills gap in the broader digital economy agenda.
Mr Okba said, "Together, we can bring about positive success in the telecommunications sector because we believe in the power of diversity and inclusion, and this collaboration is a testament to our commitment to creating equal opportunities for all."