No plan to extend runway in Arusha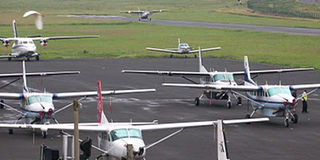 Summary
In the pipeline is the construction of a new terminal building to accommodate the increase passenger traffic, but the length of the runway will remain the same
Arusha. There are no immediate plans to extend the Arusha airport runway although a new apron will be built, the airport manager, Ms Esther Dede, has said.
Also in pipeline is the construction of a new terminal building to accommodate the increase in passenger traffic, but the length of the runway will remain the same for now.
She said the expansion and modernisation of facilities at the Arusha airport are contained in its master plan whose implementation is awaiting availability of funds.
Under it, a new terminal building would be constructed behind the current one and hence give enough space for the taxi ways for the increasing number of planes landing and taking off from there. Ms Dede was responding to questions on whether the airport runway would be extended to cater for large aircraft after last week's unannounced landing of an Ethiopian jet at the tiny airfield.
"We have a master plan for the airport. But I have not seen anywhere in it that the runway will be extended. This airport will continue to cater for small and medium range aircraft," she said.
She acknowledged in calls from stakeholders in the travel industry for the expansion of one of the busiest airports in the country to enable it to handle larger planes.
However, the official said that expansion is not contained in the present master plan and that unless that is done, Arusha Airport runway would remain with the same length; 1,620 metres. "We are okay. Our runway is up to standard; that is why it did not suffer the impact of the Ethiopian jet. But our airport is not meant for large aircraft," she pointed out.
The unexpected landing of the Ethiopian-registered Boeing 767-300 ER carrying over 200 passengers and crew at the airport on Wednesday last week has brought the facility into the national focus, including safety concerns.
The jet, operated by an aviation firm in the Horn of Africa country, landed unannounced after an apparent communication breakdown with the Kilimanjaro International Airport (KIA) where it was destined to land.
Although the giant plane landed "safely" and managed to take off a few days later through application of specialised equipment, it skidded into the grass at the end of the 1,6200 metre long runway.
It took two days for engineers from Ethiopia and local counterparts to tow the giant bird back to the tarmac and on the right direction in the runway to enable it  take off.
According to aviation experts, Boeing 767-300ER  requires a runway with a minimum length of 2,341 metres at maximum landing weight. KIA's runway is 3,200-metre long.