Yanga meet Singida Big Stars in Azam Cup semis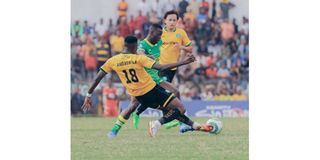 Summary
Yanga have already retained the NBC tittle after collecting 74 points that cannot be reached by other 15 teams in the league
Dar es Salaam. Young Africans (Yanga) have now shifted focus to the Azam Federation Cup as they face Singida Big Stars at the Liti Stadium in Singida.
This is after the heavyweights successfully retained the NBC Premier League title, clinched the Community Shield and qualified for the final of the CAF Confederation Cup this season.
Yanga have collected 74 points that cannot be reached by other 15 teams in the NBC Premier League.
The Jangwani Street side will face USM Alger of Algeria in the final of the CAF tournament as the first leg will take place on May 28 at the Benjamin Mkapa Stadium in Dar es Salaam and the second leg will be held on June 3 in Algiers.
The Yanga- Singida match will kickoff at 3.30pm and each team will likely target victory in order to qualify for the final against Azam FC.
The encounter is expected to be thrilling and tough because of the records of both teams that met on November 17 last year and Yanga won 4-1 at the Benjamin Mkapa Stadium.
 Yanga also recorded a 2-0 victory over Singida Big Stars on May 4 at the Liti Stadium.
Speaking on the eve of the match, Yanga head coach Nesreddine Nabi said he is confident that he is going to win the game and defend the title.
"We have the obligation of winning every match and defending the title. We have managed to do so in the NBC League and we are now eyeing the Azam Federation Cup with the same mission and vision.
"We are the defending champions of the Azam Federation Cup and we need to fight hard in order to retain the title for the second time in a row. It is our responsibility to make our fans happy.
"So, I am looking forward to winning this match, my players will be 100 per cent committed on the pitch. I'm aware that we are going to face one of the best teams in the competition," said Nabi.
For his part, Singida Big Stars head coach Hans van der Pluijm said they are aware that the encounter is going to be very tough, but added that his players are in high morale to face the challenge of Yanga players .