CAG reports: Enough talk; it's time to act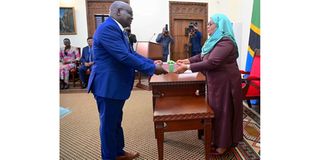 Summary
If action is not taken sooner rather than later, Tanzania could find itself in a debt crisis and a vicious cycle in the form of an insatiable appetite for borrowing and chronic mismanagement of public funds
President Samia Suluhu Hassan on Wednesday received the Controller and Auditor General's 2021/22 report, which, not surprisingly, exposed the loss of hundreds of billions of shillings in public funds.
Factors included bureaucracy, incompetence, failure to follow the right public finance management procedures and bad contracts.
This time, however, the situation was such that in a moment of frustration, President Hassan made it clear that she was fed up with the misappropriation of huge amounts of public funds that could have been spent to improve social services and stated in no uncertain terms that she wants action to be taken.
President Hassan's annoyance is understandable given the dire situation. It is unclear if the Head of State's sentiments reflect similar concern at all levels of the government, but the fact that so much money is being mismanaged at a time when the national debt is soaring is regrettable.
If action is not taken sooner rather than later, Tanzania could find itself in a debt crisis and a vicious cycle in the form of an insatiable appetite for borrowing and chronic mismanagement of public funds. We do not think that President Hassan alone can stop the haemorrhaging of public funds.
It is not a matter of how much power the President has. It is not the question of how powerful or powerless the President is. It has to do with governance systems, checks and balances, as well as individual and collective accountability.
This is why we heard the President on Wednesday repeating the same directives she gave last year when she received the CAG's 2020/21 report—directives that were not implemented, only for the same problems to reappear in the new report.
An example of these directives is the review and possible shutting down of loss-making public firms.
"Killing our own country"
In such a situation, her ominous warning that, "We are killing our own country with our bare hands" makes sense.
Suffice it to say that it is time to put to an end – once and for all – the wilful theft of public funds. Everyone must carry out their responsibilities dutifully and patriotically.
So much has been said for so long about the rot in public finance management in CAG reports and the need to take action that it now sounds like an overplayed musical hit of yesteryears.
The time for action is now. It is time to bridge the talk-action gap. We should obviously start with reforms. There are things that could be dealt with quickly such as amendment of the laws that provide loopholes for mismanagement and there are those that require comprehensive constitutional reforms.
Allowing Parliament to carry out its oversight responsibilities ought to be done right away.
CAG reports are tabled in Parliament. MPs have always debated these reports exhaustively and sometimes emotionally, advising the government on the way forward, but in most cases, it has ended there.
Little or no action has been taken afterwards. In the past, it was claimed that no action was taken because the CAG reports were tabled in Parliament too late when some of the culprits were either retired or dead, but during President Jakaya Kikwete's administration, efforts were made to ensure that the reports were current, but still no meaningful action has been taken against the culprits.
That has to change if we want our children to have a prosperous future.