Kenya and the Haiti blot: Here's why we can no longer look away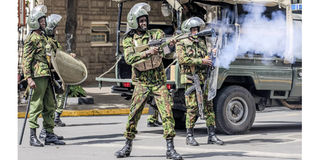 Drawing from old Cold War language, President Ruto's government has been called an "imperialist running dog", doing the bidding of its American master.
These matters are never that simple, though. To begin with, it is not Kenya alone flying over 12,000 kilometres to the Caribbean to play saviour in Haiti.
It is, however, the furthest it has gone on a peacekeeping or enforcement mission, the previous record being 5,200 kilometres away in former Yugoslavia, where the Kenya Defence Forces (KDF) were stationed between 1992 and 1995 as part of the United Nations peacekeeping mission.
It looks set, if the mission does happen, to lead it. Otherwise there are several countries that will contribute to the mission, including the Caribbean nation of Antigua and Barbuda, the Bahamas, and Jamaica.
The multinational mission, now pushed by the US, has also been requested by the government of Prime Minister Ariel Henry, who assumed power after the assassination of President Jovonel Moise in July 2021.
The problem he has is that many sections of Haitian opposition politics and civil society consider him illegitimate. He has not helped himself much, because his government has remained mired in the corruption that has blighted Haiti for decades.
He has not called elections because, he argues that one can't hold it in the current madness in Haiti.
Looking at it from East African, the story that hasn't been well told on our end is what is broken in Haiti that Kenya is going to fix. It is a strange one.
Unlike in Somalia, the Democratic Republic of Congo, South Sudan, or Mozambique, where East African armies have dabbled as peacekeepers in recent years, in Haiti there is no rebel group fighting to take power.
More than 2,000 Haitians were murdered in the first half of this year by violent criminals. Kidnapping is big business, and more pervasive than in the chaotic parts of Nigeria. In the first half of the year, there were at least 1,000 kidnappings.
Snipers shoot and kill at will civilians walking on the streets. You are walking with friends, and all of a sudden the head of one or two of them is blown open by a sniper's bullets and they fall on the street.
Gangs are roaming neighbourhoods raping women and children. You have internally displaced persons (IDP) camps in Haiti not because people are fleeing war, but gangs. The violence has shut down many schools.
With nothing working and the recent spate of natural disasters (earthquakes, floods), disease is sweeping the island nation. It's estimated that 60,000 people have been struck by cholera. In a country of 11 million, nearly half of them are going hungry.
Several urban areas haven't had water or electricity for over a year. Someone remarked that the situation in the capital Port-au-Prince today, is worse than in Mogadishu 15 years ago, when enterprising Somalis were still able to generate power and water privately and distribute to parts of the capital.
There is something else about Haiti that the black world must confront. It is very uncomfortable, and even racists look around first, close windows and doors, and whisper it.
The Haitians fought a heroic liberation war against the French, and became the world's first black independent nation of the colonial era in January 1804. It has been mostly a disaster since; oppressed by brutal corrupt rulers, and wallowing in poverty. Haiti to those who whisper, is the best example that "black people can't run anything".
There are problems posed by a Kenya-led multinational force, yes, but Haiti is now a blot on the global black - and universal - conscience. We can no longer just look away. Only question is what we can do about it.