Air Tanzania to launch China flights in February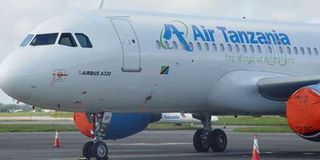 Dar es Salaam. Air Tanzania's new Boeing 787-8 Dreamliner will start flying to Guangzhou in China via Bangkok, Thailand in February next year. Guangzhou is the third largest city in China, after Beijing and Shanghai and one of the world's oldest and busiest trade hubs.
The airline will fly three times a week (Tuesday, Thursday and Saturday), and return fares have been set at $650 to Guangzhou and $700 to Bangkok, with Value Added Tax included.
ATCL Distribution and Sales Manager Mr Edward Nkwabi said yesterday that the airline targets those cities because they are major commercial centres and many Tanzanians travel to the cities to buy merchandise.
Mr Nkwabi was speaking during a joint press conference organised by ATCL and the Tanzania Tourist Board (TTB), where they revealed plans of hosting roadshows in four cities in China starting next week.
The roadshows will be held in China from November 12 to 20 to promote Air Tanzania and the country's tourist attractions.
Speaking earlier, the TTB Board Chairman Judge (retired) Thomas Mihayo said during the four days in China, they will visit Shanghai, Guangzhou, Hong Kong, Chengdu and Beijing, where they expect to meet more than 500 tourism agents.
He said the team that includes tourism officials from TTB, ATCL and private companies will be led by deputy permanent secretary in the Ministry of Natural Resources and Tourism.
Research conducted by Outbound Research Institute (COTRI) in China showed that more than 4.31 million Chinese are expected to visit Africa for tourism activities this year.
Judge Mihayo said the decision to put the Dreamliner on the Guangzhou route is because the Chinese prefer direct flights, so they believe the new ATCL service will lead to more tourists visiting the country.
In another development, Miss Tanzania 2018 is scheduled to leave tomorrow for China to participate in the Miss World event.
The TTB gave various publications to Queen Elizabeth Makune for her to promote the country abroad.