China plans to open Transport College in Tanzania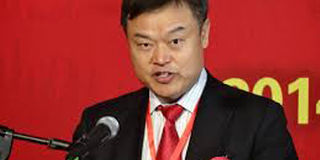 Summary
Dr Lu said this during the opening of Tanzania China job fair, which was held at the University of Dar es Salaam on Saturday
Dar es Salaam. Tanzania and China governments are in discussion with a view of opening a transport college in the country, China ambassador to Tanzania Dr Lu Youqing revealed.
Dr Lu said this during the opening of Tanzania China job fair, which was held at the University of Dar es Salaam on Saturday
More than 1000 people including higher learning institution graduates attended the fair.
"We have a long history when it comes to cooperation, we have supported Tanzania in various sectors which include transport, health, and education and it is our intention to foster the relationship," said Mr Lu.
Mr Lu added that statistics from Tanzania Investment Centre (TIC) indicates that trade volume between the two countries stands at $4billion. He added that more than 1300 Tanzanians are doing business with China.
The fair which is held in the country for the second year in a row is organized by Chinese Business Chamber in Tanzania, Chinese Confucius Institute and Tanzania China Council for the Promotion of Peaceful National Reunification. Over 100 enterprises from China are participating in the fair.