Stiegler's Gorge project was okayed: Nemc boss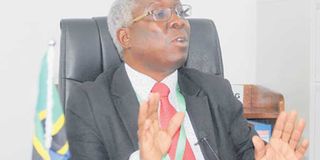 What you need to know:
There has been concern among environmental campaigners that the government pushed for the project without following rigorous international audit procedures

Rufiji. The National Environmental Management Council (Nemc) gave the thumbs up to the development of the Stiegler's Gorge project, the agency's director general, Mr  Samwel Gwamaka has said.

"Being the institution responsible for management of our environment, we ensured all environment and social impact assessments were made before this project was allowed to progress. Its implementation will not harm the environment,"  assured Mr Gwamaka.

He dismissed views that due diligence on environmental effects was not done, following  critics' claim that the government ignored professional advise and pushed with the plan to roll out the project.

He spoke during a tour of  the site for the project at the weekend. An Egyptian contractor who won the tender for the project is mobilising to start work of the $3.6 billion (about Sh8.5 trillion) project. 

Nemc officials, he said, will make frequent visits to the project to ensure environment al compliance, noting that the project has great significance to Tanzania's economic growth.

"Our task is to facilitate implementation of this big power project because it has great bearing on national industrialisation process," he said.
He explained that national development is multi-sectoral, adding that the council is well prepared to play its role and be an active participant in implementing government projects.

Dr Gwamaka said Nemc will emphasise on public education in a deliberate bid to make people active players in protecting the environment, particularly, people living near water sources.  
He said people must appreciate the importance of protecting sources of water bodies, especially those pouring water into Rufiji River Basin so that the project becomes sustainable.

Deputy minister of State in the Vice President's Office (Union and Environment), Mr Mussa Sima, was one of those who toured the regions whose water sources flowing into Rufiji River to see how best those catchments were naturally protected.

He directed the authorities to protect them at any cost possible to ensure adequate flow of the precious liquid key to the construction of mega electricity dam dubbed Stiegler's Gorge, which is estimated to produce 2,100 megawatts.

The tour took him to the regions of Mtwara, Lindi, Ruvuma, Njombe, Mbeya, Iringa, Morogoro and climaxed at the Rufiji River where the mega power project will be implemented.