Work starts on Sh2.7 trillion standard gauge rail project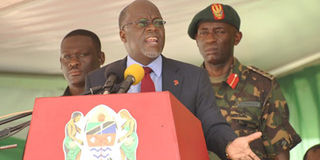 What you need to know:
The construction of the 300-kilometre railway is the first phase of the upgrading to standard gauge of the Central Railway Line linking Dar es Salaam and Mwanza/Kigoma
Dar es Salaam. President John Magufuli yesterday launched a Sh2.7 trillion project to construct a standard gauge railway (SGR) project between Dar es Salaam and Morogoro.
The 300km long SGR project, scheduled to to be completed in the next 30 months, is part of the upgrading of Dar es Salaam-Mwanza/Dar es Salaam-Kigoma railway line into a SGR. Speaking during the launch, Dr Magufuli urged the contractors, Yapi Merkezi of Turkey and Mota-Engil of Portugal to make sure the implementation of the project is completed on time.
The President said upon the completion of the project, the central railway line will have a capacity to transport 10,000 tonnes on a single trip. He reiterated that his administration's focus is on improving the infrastructure sector in order to expedite the speed of Tanzania's economic growth.
"Our main focus is to improve the infrastructure sector, something which will in turn improve other sectors," said President Magufuli.
He also revealed that the Turkey government, whose President Recep Erdogan toured Tanzania recently, has expressed interest to fund the project to construct 336 kilometres of SGR from Morogoro to Dodoma.
He also revealed that the government has acquired Sh300 billion from the World Bank for maintenance of the metre gauge central railway line. The World Bank has already issued Sh300 billion for the maintenance of the current metre gauge central railway.
Dr Magufuli added the upgrading of the central railway line to SGR will boost trade between Tanzania and neighbouring countries such as Burundi, Rwanda, Democratic Republic of Congo as well as Southern Sudan.
The President said poor infrastructure has been the main cause of poor intra-Africa trade, which currently stands at 15 per cent, compare to other continents, where it stands at 45 per cent.
Earlier on Reli Asset Holding Company (Rahco) Managing Director Masanja Kadogosa told the President that upon completion of the project the 160kph bullet train will be able to transport 17 million tonnes of cargo as comparing to the current ability of transporting only 5 million tonnes.
Mr Kadogosa added that a total of 603,000 Tanzanians will be employed during the implementation of the project, while more than 30,000 permanent employment opportunities will be created upon completion of the project.
The Rahco boss added that a total of six stations, which include a dry port at Ruvu, will be constructed during the implementation of the first phase of the project.
The government wants to construct a 2,561 km standard gauge railway connecting port of Dar es Salaam to landlocked neighbours Democratic Republic of Congo, Zambia, Rwanda and Uganda.