When street children go untreated during illness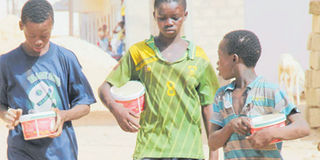 Summary
I watch as they hit the road every time vehicles stop at this junction. Like newspaper vendors, beggars know the best spots and time to get moving. At road junctions where vehicles from all sides stop in turns depending on traffic lights. As usual, they move from one car to another, their hands stretched out as they ask for alms from motorists.

I am in Magomeni Mapipa close to the intersection of Kawawa and Morogoro roads watching beggars as they go about their business. Yes, begging.
I watch as they hit the road every time vehicles stop at this junction. Like newspaper vendors, beggars know the best spots and time to get moving. At road junctions where vehicles from all sides stop in turns depending on traffic lights. As usual, they move from one car to another, their hands stretched out as they ask for alms from motorists.
When the cars start moving, they go back to their stations by the side of the road. I spot a group of six children aged between ten and 12. They too are begging. Again, when the traffic comes to a stand still, the chidren rush to the cars, stretch out their little hands and move on to the next car, do the same, and off to the next. The bare-footed young ones whose clothes are untidy look tired. But they continue begging, expecting something from the merciful motorists.
At one point, a thin boy looses his balance and falls down injuring his toe. I can see he is bleeding, surprisingly, he shows no sign of pain. He gathers himself up, stands on one leg and limps to the other side of the road. He wonders around and finds a dirty piece of cloth with which he covers the wound.
Ben, whose lips are dry probably as a sign of dehydration lives with his grandmother in Magomeni Mapipa. The 12-year-old has never been to school. Neither does he know his parents. He has never seen them.
"My grandmother sends me here to beg," a seemingly tired and terrified Ben tells me. He provides brief answers to my questions and doesn't seem to be comfortable with me. He quickly leaves without a word to a more comfortable place.
As I watch him limping away, I wonder whether Ben will get the medical attention he needs for his wound. Sound Living's month-long survey can establish that it's unlikely for child beggars to seek medical advice when they fall sick.
"Street children face unimaginable problems," says Dr Marko Hingi, Executive Director of the Tanzania Rural Health Movement (THRM), a community organisation based in the country's second largest city, Mwanza.
Dr Hingi says that street children engage in fights, get accidents and experience serious physical injuries and other health problems. "However, most of them don't have access to healthcare."
The doctor is co-author of a recent study titled 'Multidrug-resistant Achromobacter animicus causing wound infection in street children in Mwanza city,' which reports that more than 90 per cent of male street children in the city risk suffering injuries, tripping being the most common.
However, the study, which was published in the journal of Diagnostic Microbiology and Infectious Disease this year, reports that only 10 per cent of the children with wounds reported to receive Tetanus Toxoid (TT) vaccination.
"Introducing mobile street clinics to help these children will be very potential," suggests Dr Hingi. "These clinics will help improve healthcare accessibility among street children in their surroundings."
Barriers to health care access
Dr Hingi's suggestion on mobile street clinics seems convincing bearing the factors that prevent many street children from seeking medical advice. A study titled 'The Health Profile of Street Children in Africa: A Literature Review,' cites high hospitalisation and consultation costs in healthcare facilities as major barriers for street children who earn little or nothing on the streets.
Published in the Journal of Public Health in Africa in 2015, the study has it that stigmatisation by health care providers, minority status and not being sure of the quality of care they will receive in healthcare centres due to their disadvantaged status keep street children away from healthcare.
"Thus enforcing state policies and laws about street children in all African countries is very important," recommends the study. However, bearing the complexity surrounding the issue of street children, the recommendation is hard to implement, according to stakeholders.
Mr Steven Gumbo, senior social welfare officer at the Ministry of Health, Community Development, Gender, Elderly and Children says there are currently are no policies that would enable street children to access healthcare.
"It is a good thing to have such frameworks in place but how can we prevent irresponsible parents from taking advantage of the policies?" queries Mr Gumbo. "This is a problem affecting not only the street children but also those in detention."
According to him, a child that is liable to support, particularly in this context, is the one who does not have family support and thus is vulnerable. "Identifying such a child is hard as there are some irresponsible parents who intentionally send their children to the streets to beg."
Our recent survey found a number of children on the streets who are used by their parents to beg. Unfortunately the same parents deny them of the right to access healthcare. Strolling along Bibi Titi road towards the national library, I bump into two children, a boy and a girl. It's just a few metres from Maktaba Square, where Bibi Titi and Ali Hassan Mwinyi roads intersect.
One of the children, Maryam, has a big scar on the left side of her forehead. "I got injured a few months ago when I fell."
She did not go to hospital for treatment. She does not remember the last time she went to hospital. Maryam tells me that every time she falls sick, her mother buys her drugs and sometimes gives her traditional herbs.
Juma, the other child has a big scar on his left arm. An iron sheet cut him. Like Maryam, the 12-year-old neither went to hospital nor accessed proper medication. He did not have money to pay the hospital expenses.
While I spoke to Maryam and Juma, two girls joined us. Roza and Semeni are both ten. They too have never been to hospital. Semeni is Maryam's twin sister. "Yes, we fall sick," replies Roza. "Our mother buys us medicine."
After chatting with the children for almost nine minutes, a woman, in her 30s, wearing a pair of kanga, a mobile phone hanging from her neck, interrupted our conversation. She spoke to the children in vernacular and from the look of things, she was angry at them. She later turned to me and asked me what I was doing with the children.
"Why have you gathered them here and stopped them from getting money?" she asks angrily. I told her that I was just asking them how they get treatment during illness. She told me she usually takes them to hospital, after which one of the twins, Semeni, quickly asked her mother, "when mother?"
Semeni and Maryam's mother, Maua, is also Juma and Roza's aunt. I later learnt that neither of the children has been to school. They come from Dodoma, the country's capital and live in Kigamboni, almost six kilometres South-East of Dar es Salaam city centre.
Gumbo, the ministry of health official says it's because of parents like Maua that the issue of street children is complicated. Gumbo says as far as healthcare is concerned, the ministry has placed social welfare officers in every district hospital to enable children who do not have anyone to look after them access service.
"Once a street child gets to these hospitals, they aree questioned to establish if they really don't have parents or guardians," says Mr Gumbo adding, "Once that is established, the social welfare officer writes to the hospital administration to recommend that the child be given free service."
Unfortunately, street children do not go to these hospitals. In 2010, the Research on Poverty alleviation (REPOA) carried out a study titled 'Coping Strategies Used by Street Children in the Event of Illness' which found out that more than 60 per cent of street boys and 53 per cent of girls did not go to hospital.
The study cites reasons such as costly services and unfriendly hospital staff. The children therefore prefer buying medicine from local shops and pharmacies because it's cheap and saves time, thereby allowing them to focus on income-earning activities.
Sophia Juma, a street girl at Morocco, Kinondoni attests to this by saying: "Watchmen in the hospitals prevent us from entering the compound thinking we go there to beg," says the 14-year old girl.
However, more than seven years since the release of the REPOA study, most of the recommendations made including reducing the cost of medication and making hospitals friendly to street children remain unimplemented.
"I think the complex nature of the life of street children makes it a bit complicated to support them as they cannot be easily accessed," says Ms Zena Amury, one of the study authors.
Ms Amury, who is also an education advisor with the Aga Khan Foundation, is of the opinion that there is a need to find out the reasons that lead children to the streets and start working on them.
"The government and other stakeholders should focus on solving problems that lead to the increase of street children. The government should also provide health care that is friendly and non-discriminatory to these children."