Clean cooking agenda now on global stage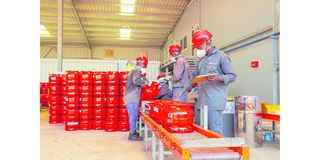 Summary
Tanzania said it would undertake six specific measures in its efforts to reduce the use of solid biomass energy for cooking
Dar es Salaam. Oryx Gas Tanzania represented the country at the Global LPG Week 2022 in Delhi, India last week where it detailed initiatives that the country was taking in its clean cooking energy agenda.
The event, a brainchild of the World LPG Association (WLPGA), came after just about two week since Tanzania said it would undertake six specific measures in its efforts to reduce the use of solid biomass energy for cooking as part of the initiatives to boost usage of clean cooking energy to 80 percent in ten years time.
Oryx Gas Tanzania Ltd managing director, Mr Benoit Araman, who was also a panellist during the four-day event from November 14, last week, said in a statement in Dar es Salaam yesterday that the company used the opportunity to showcase a couple of initiatives implemented by Oryx Energies in Tanzania, Benin and Zambia.
"The World LPG Association has been fascinated by the Tanzanian initiative. It has been agreed that the WLPGA will organise a regional event in Tanzania in 2023 as part of the follow up of the Clean Cooking conference together with a workshop on LPG clean cooking and the launch of the newly formed Tanzanian LPG Association," he said.
The Global LPG week is an annual event organised by the WLPGA, an authoritative voice of the global LPG industry representing the full LPG value chain.
The primary aim of the Association is to support the sector through driving premium demand for LPG, while also promoting compliance to good business and safety practices.
The WLPGA brings together private and public companies involved in one, several, or all activities of the industry. LPG Week 2022 takes place in New Delhi at the India Expo Centre & Mart (IEML) and delivers a unique on-site and online show for LPG companies, opportunities for networking with existing and new business contacts, and, of course, the flexibility to take part from wherever you are in the world at any time.