KCB Bank and Azam Pay announce partnership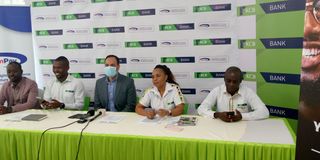 Dar es Salaam. KCB Bank and Azam Pay have announced a partnership that will from now on allow customers to pay for service using their cards instead of cash.
The statement was issued on May 21, by KCB Bank Cooperate Affairs Manager, Margaret Muhina saying the partnership will solve challenges that customers face when paying for services.
"Our intention as KBC, to enter into partnerships with Azam Pay is to achieve the goals we hope to provide better services to the public, as our colleagues have invested in online services and we have joined as a team to facilitate the online system so that people can access various online services, "she said
Christina Manyenye, the Head of Sales and Corporate Services at KCB, said the bank was focused on innovation to keep pace with technology, believing that the partnership with Azam Pay would be productive.
She said customers with the bank's Visa cards, will be able to make payments on time.
"If you look at the development of science and technology right now especially in terms of online shopping which has made paying for services simpler," she said.
Azam Pay Director, Firas Ahmad said via the new partnership will help customers save time and focus on more productivity.