Prime
EAC summit appoints two deputy secretary generals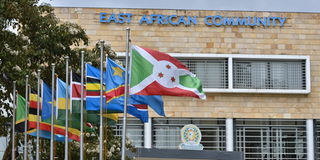 What you need to know:
The appointments were made on Wednesday during an extra-ordinary summit of the heads of state in Bujumbura, Burundi
Arusha. The East African Community (EAC) has appointed two deputy secretary generals to serve under a new structure.
The appointments were made on Wednesday during an extra-ordinary summit of the heads of state in Bujumbura, Burundi.
The new structure is a departure from the past, when each partner state had its national as a deputy SG, except for the country whose national is the secretary general.
Ms Annette Ssemuwemba, from Uganda, was appointed deputy SG and will be in charge of Customs, Trade and Monetary Affairs.
Andrea Ariik Malueth from South Sudan becomes the deputy SG responsible for Infrastructure, Productive Services and Political Sectors.
The two positions are new after the streamlining of senior positions, in which the Secretariat will have only two deputy SGs to assist the secretary general, who serves as the CEO of the organization.
 The 21st extra-ordinary summit in Bujumbura took place under President Evariste Ndayishimiye of Burundi, who is the current EAC Chair. According to the EAC Treaty, the duties of the deputy SG are to deputise the sitting SG and perform such other duties as may be prescribed.
 Dr Peter Mathuki from Kenya is the current secretary general, the accounting officer of the EAC, and secretary to the summit.
 Until a few years ago, the EAC had several deputy SGs from each partner state except for a country whose national is a SG.
 The last Tanzanian national to serve in the top hierarchy is Steven Mlote, who exited last month after serving as deputy SG for Planning and Infrastructure since 2017.
Yesterday's summit designated Lady Justice Anita Mugeni from Rwanda as Vice President of the East African Court of Justice (EACJ). Justice Omar Othman Makungu from Tanzania was appointed a judge of the same court and will serve in the Appellate Division. The Democratic Republic of the Congo (DRC), which joined the bloc last year, has one of its judges serving in the EACJ.
Justice Kayembe Kasanga Ignace Rene was appointed a judge in the First Instance Division of the regional court effective May 31st, 2023. Lady Justice Sauda Mjasiri from Tanzania, who has served in the EACJ for a couple of years, exits the court later this month at the end of her tenure.
President Samia Suluhu Hassan was represented at the summit by Vice President Phillip Mpango, who also led the Tanzanian delegation. Besides President Ndayishimiye, Kenya's President William Ruto attended the summit.
Other countries were as follows: prime minister Edouard Ngirente (Rwanda); Dr Marial Benjamin, the minister in the Office of the President (South Sudan); Antipas Mbusa Nyamwisi, minister of state, regional integration (DR Congo); and Rebecca Alitwala Kadaga, first deputy prime minister and minister of East African Community affairs (Uganda).