Bongo Flava added to 66th Grammy Award categories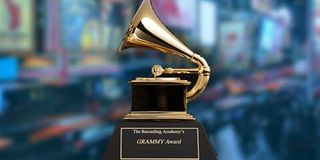 What you need to know:
The category is solely dedicated to African music from all parts of the continent. Some of the genres include Tanzania's Bongo Flava
The Recording Academy has announced an additional "Best African Music Performance" category in the 66th Grammy Awards.
The category is solely dedicated to African music from all parts of the continent. Some of the genres include Tanzania's Bongo Flava, Kenya's Genge, Afrobeat, Afro-fusion, Afro-Pop, Alte, Amapiano, Kizomba, Chimurenga, High Life, Fuji, Kwassa, Ndombolo, Mapouka, Ghanaian Drill, Afro-House, South African Hip-Hop, and Ethio Jazz.
The 'Best African Music Performance' category comes as positive news for African artists, especially for Bongo Flava, which is striving to propel beyond the African continent.
"A step in the right direction!" hails Angela Ruhinda, film producer and co-founder of Black Unicorn Studio in Dar es Salaam.
On the same line, Wasafi Radio Presenter Omary Tambwe, alias LilOmmy, writes, "Let's Gooo Bongo Flava to the World!" S/O to the Recording Academy and Grammys for recognizing the Bongo Flava genre! The world has yet to experience the best melodic and rhythmic sounds.
But others had different opinions and pointed out that African music is broad and diverse and hence deserves more than just one category.
Zambian rapper and songwriter Sampa Tembo, better known as 'Sampa The Great," writes, "Will this work?"
Urging the Academy to consider dividing the category just as the Latin Grammy Awards do.
"We need the concept of separate Grammy Awards like the Latin Grammy Award. That covers how broad and diverse African music and genres across the continent are," she writes.
Adding that, "This is basically saying 'Africa is a country" in musical terms," The continent can be divided into 4-5 regions: North Africa, Eastern Africa, Southern Africa, Western Africa, and Middle/Central Africa," pens Sampa. The Great
On his part, Tochukwu Young Umezulike, better known as Toks Asher Young, a Nigerian talent manager, entrepreneur, and executive producer, comments, "Pleaseee, this is like adding salt to the ocean of talent and creativity that abound in Africa. Just one category? There should be more categories, a minimum of at least 8 categories."
The Nigerian artiste manager went on to state the eight categories as 'best African music performance', 'best African music album', 'best African music single', 'best African music group,' 'best African music video', 'best new African artiste', 'African artiste of the year," and 'best African music collaboration."
"Throwing just one category out for African music and artists is like throwing a single bone to many hungry dogs. The recording academy can do better than this! This first step is commendable, but... We definitely need more categories if you guys are serious about this!" adds Toks Asher Young.
Prior to the Best African Music Performance category, African artistes competed for the Best Global Music Performance category, where Nigerian artistes such as Wizkid, Burna Boy, Femi Kuti, and Angelique Kidjo have all been nominated.
In 2022, Bongo Flava artist Nandy received a certificate of participation at the 64th Grammy Awards after an album she was featured in won the Best Reggae Album title.
'Pamoja' album by Etana, featuring the self-styled African Princess.