Samia's directives on timely delivery of justice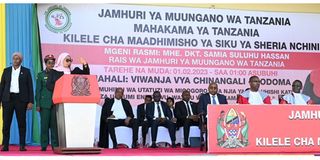 Summary
The president has directed the relevant government ministries to review all laws that have proven to be a hindrance to quicker dispensation of justice in the country
Dar es Salaam. President Samia Suluhu Hassan now wants sweeping legal reforms to facilitate speedy disposition of court cases.
To that effect she has directed the relevant government ministries to review all laws that have proven to be a hindrance to quicker dispensation of justice in the country.
Gracing the Law Day at Chinangali grounds in Dodoma yesterday President Hassan categorically warned that it was futile to expect Tanzania to become an investment destination hub of choice in the region if the judicial system continued to be sluggish and ineffective.
President Hassan's order comes at a time when businesses have been complaining that hundreds of billions of their cash flows have been tied up in the slow judicial system in Tanzania, which has at times forced them to move their operations somewhere else.
Recent estimates by the World Bank shows that delays and unnecessary procedures tie up an estimated $464 million (Sh1 trillion) a year in the court system in Tanzania.
Court proceedings in Tanzania can take up to 12 years, Chief Justice Ibrahim Juma, who also spoke at the event yesterday, admitted. Court proceedings in Tanzania can take up to 12 years, Chief Justice Ibrahim Juma, who also spoke at the event yesterday, admitted.
"Certainly, court proceedings take time before justice is served, and when it comes to businesses and investment related cases, reforms are needed. We will speed up…we need to change this narrative because justice delayed is justice denied," President Hassan noted.
She added: "A slow judicial system does not suit our economy well. It adds up to the cost of doing business and affects the investment climate. We need to change," President Hassan said.
Of particular concern are investigation and court proceedings that are too cumbersome and provide loopholes for corruption and delays.
The whole civil and criminal prosecution process should be reviewed to ensure quick delivery of justice.
"Investors need a guarantee that their assets will be safe. It is therefore important to strengthen the country's justice delivery system so that it can speedily resolve disputes to attract more businesses as well as investments into the country."
She suggested that officials from the ministry of Legal and Constitutional Affairs and the Attorney General Office and from other relevant ministries should convene to review the laws and send them to Parliament for amendment.
The alternative dispute resolution arrangement should also be used to reduce backlog of cases, especially in the lower courts, she noted.
"Our legal system allows alternative dispute resolution. Let's put it to maximum use so that the courts serve as avenues of last resort to our people," she noted.
At the event yesterday Prof Juma noted that the Attorney General Office has promised to present a Bill to Parliament to make mediation mandatory before filing cases in the courts of law.
"This will reduce court cases, it will also maintain privacy because within the court system, everything becomes public good," Prof Juma noted.
President Hassan's demand for reforms on the judicial system comes a day after she deplored the rot in the criminal justice system for failing to serve Tanzanians diligently. On January 31, 2023 she officially officiated the launch of an 11-man committee she had formed to assess the performance of the criminal justice institutions and proposed reforms to be taken.
Yesterday the President explained that the committee, headed by retired Chief Justice Mohamed Othman, will come up with suggestions that will help improve justice delivery a great deal.
Improvements in court procedures should go hand in hand with taking stern action against all corrupt and lazy officials who care less for people's rights to quick justice, President Hassan noted.