CCM reshuffles and reveals its new Secretariat line-up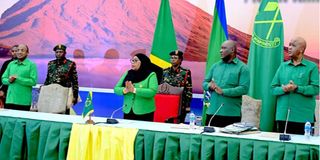 What you need to know:
The ruling party has a new secretariat, appointed six members to its central committee and endorsed Mr Chongolo to keep his mantle
Dar es Salaam. Yesterday, the ruling party, Chama Cha Mapinduzi (CCM), revealed its new secretariat line-up, with the party's National Executive Csommittee (Nec) endorsing its secretary general, Daniel Chongolo, to keep his mantle.
The reshuffle, which saw about three quarters of the party's secretariat swapped out to make room for the new team, was announced by Shaka Hamdu Shaka, the outgoing secretary ideology and publicity.
According to Mr Shaka, CCM's central committee and Nec meeting, both headed by CCM national chairperson, President Samia Suluhu Hassan. Among other things, the party also appointed six members.
"The two meetings were, among other things, meant to finalise the work we had started during the tenth national congress which was held in Dodoma. And so in line with our (CCM) constitution, Nec has appointed six members of the CCM's CC," he explained.
According to the CCM constitution, of the six CC members, three should be appointed from Zanzibar while the rest are drawn from the mainland. Among the six, two women (one from Zanzibar, one from the mainland) should also be appointed.
For the mainland, former premier Mizengo Pinda was re-appointed as the party's member to the CC.
Others include Hassan Wakasuvi, currently serving as CCM's regional chair for Tabora, and Halima Mamuya who is the former secretary for the party's women's wing (UWT).
Other CC members appointed from Zanzibar who will constitute the 24 members of the ruling party's central committee, are Mohamed Abood Mohamed, Nasir Aly, and Leila Burhan. While Ms Burhan was reappointed to serve in her capacity, the other two are currently serving as Nec members.
"The national executive committee has also endorsed the appointment of the party's national secretariat, where Mr Chongolo has been reappointed to serve as the party's secretary general," Mr Shaka revealed.
The new line-up of CCM's executive is seen as imminent in an attempt to reorganise the party ahead of the 2025 general election, and in fact, the secretary-general is the party's top executive who will oversee its operations.
Mr Chongolo will be assisted by two deputies including Anna Mringi Macha, former secretary to the secretariat, who will serve as deputy secretary general mainland, replacing Christina Mndeme.
Mohamed Said Dimwa, who was elected as the party's Nec member last year, will now serve as deputy secretary general responsible for Zanzibar replacing Abdallah Juma Sadala.
On the other hand, Mr Shaka said: "Shinyanga regional commissioner Sofia Edward Mjema will succeed me as the new party secretary ideology and publicity while Frank Gorge Haule Hawassi will retain his position as economic and finance secretary."
Furthermore, the CCM organ endorsed the appointment of deputy minister for foreign affairs and east African cooperation, Amb Mbarouk Nassor Mbarouk , to serve as the party's secretary for political affairs and international relations, replacing Col (Rtd) Ngemela Lubinga.
Nevertheless, for the party's organisation secretary, Issa Haji Usi Gavu has been appointed to serve in that capacity replacing Maurdin Kastiko.
When former president Jakaya Kikwete came into power in 2005, he worked with Philip Mangula, then secretary-general. He later replaced him with Yusuf Makamba when he was appointed chairman in 2007.
Mr Kikwete also replaced Mr Makamba with Wilson Mukama (2011-2012) who was followed by Mr Kinana who championed the rebranding, repositioning and repackaging of the party in an attempt to clean it up.
Mr Kinana's tenure ended when former president John Magufuli became the chairperson and appointed Ally Bashiru, a lecturer at University of Dar es Salaam, to the post.
When President Hassan became the party chairperson last year, she appointed Mr Chongolo.