Dart looks for partners in Sh452 billion facilities project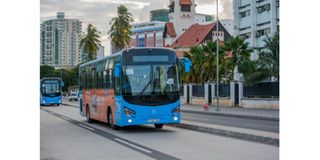 Summary
The agency is considering a number of methods, such as a Public Private Partnership agreement with investors and an Initial Public Offering, to raise the funds.
Dar es Salaam. The Dar es Salaam Rapid Transit Agency (Dart) is looking for Sh452 billion to construct commercial facilities at its Bus Rapid Transit (BRT) corridors in a project that is expected to change the face of several of its amenities in the commercial city.
The commercial facilities - planned to be built at Dart's Mwanamboka, Kwa Azizi Ali, Kinondoni Studio and Gerezani Terminal BRT stations – are part of the implementation of the Transit Oriented Development (TOD) project, Dart chief executive Edwin Mhede told The Citizen yesterday.
TOD is urban development that maximizes the amount of residential, business and leisure space within walking distance of public transport.
He said that the agency was looking at several ways to raise the funds, including through a Public Private Partnership (PPP) arrangement with investors and through an Initial Public Offering (IPO) that would ultimately see the agency being listed on the Dar es Salaam Stock Exchange (DSE).
The breakdowns shown to The Citizen show that setting up a commercial hub at Gerezani Terminal would require a total of Sh450 billion while some Sh571 million will be needed for the development of a commercial facility at Mwanamboka.
Dart needs Sh1 billion and Sh878 million to set up commercial facilities at Kwa Azizi Ali and Kinondoni Studio respectively.
The Gerezani commercial hub would be built on 700 square metres of land and would feature vertical storey buildings that would include a commercial wholesale centre, a five-star hotel, a supermarket, a recreation centre as well as residential and office buildings, according to Dart's system planning and design manager Fanuel Kalugendo.
Dr Mhede said that the plan was in line with Order 2007 of the Executive Agencies Act Cap 245 which established the Dar Rapid Transit Agency. "The executive agency's order of 2007 indicates that the agency shall perform its functions in accordance with modern commercial principles and shall ensure that, as far as possible, its revenue is sufficient to meet its expenditures properly chargeable to the revenue," said Dr Mhede, quoting from the Order.
"We highly advise the private sector to invest in the BRT system so that we can operate under a PPP arrangement and boost our operation systems to increase efficiency," he said.
According to him, the executive agency's order of 2007 indicates that the agency will lead sustainable economic growth and act as a pioneer of private and public investment partnerships in the city's transport sector.
"We have seen most developed countries provide public transport in joint partnerships. We now want to benchmark ourselves in accordance with international experience," he said.
Dr Mhede commended the government and other sectoral ministries for the support and trust shown to Dart to ensure the agency continued operating accordingly.
Dart Finance and Business Development Director Deusdelity Casmir said that so far one local investor has shown interest in constructing a commercial building at one of the Dart infrastructures and that the process was currently in Dart's procurement department.
"They have already conducted a survey in areas where construction will take place and the types of businesses to be conducted," he said.
"We have also done an assessment to enable us to know the age of people living in those areas so that it could be easy for Dart to identify some gaps and work on them, especially in terms of investment," he said.