DRC's entry into EA bloc in the spotlight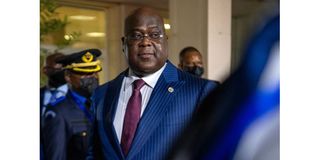 Summary
The vast and resource-rich nation is still grappling with escalating violence on its eastern border, which it attributes to some of its partner states
Arusha. The entry of the Democratic Republic of Congo (DRC) into the East African Community (EAC) will be on radar at a lawyers meeting here.
The resource-rich and vast country is already embroiled in surging violence on its eastern border it blames on some partner states.
The simmering violence has apparently slowed down the pace of the country's integration in the seven nation bloc.
The implications of the vast country's entry into the EAC will feature in the annual meeting of the East African Law Society (EALS) starting today.
The four day meeting will be officially opened by President Samia Suluhu Hassan who was expected to arrive in Arusha late yesterday (Wednesday) after her visit to Manyara region.
The discussion will come as the regional leaders are shuttling between the capitals of the partner states seeking solution to the crisis.
A programme issued yesterday by EALS, a regional bar association based here,said the lawyers will also discuss how to unify the region through dispute resolution.
"We don't want to see a shaky union (the EAC). The conversation will be on what we must do to fully integrate as a region," said David Sigano, EALS acting CEO.
Also to feature in the meeting is how the EAC can be a building block to the African Continental Free Trade Area (AfCFTA).
Besides building a unified EAC, members of the legal fraternity will also have a session on the role of financial institutions in fostering economic growth in the bloc.
Natural resource extraction and their economic potential will also dominate the talks of the regional lawyers.
The meeting will explore the natural resource potential as a driver of economic growth and stability.
"It will also explore the risks relating to natural resources, especially conflict related risks," Mr Sigano added.
The EAC bloc is deemed to be one of the world's mega sites for huge natural capital, among them the biological resources.
A study funded by the US aid agency (USAid) in 2020 indicated that the region has an estimated natural capital valued at $ 11.3 billion.
Other major topics include corporate and commercial law, the Arusha-based legal facility said.
"We will examine developments in corporate and commercial law practice as well as the role of technology in transforming commercial law practice," he said. There will also be discussions on loss of indigenous land rights, corruption and transparency and illicit financial flows and money laundering.
EALS, which has an observer status to the EAC, is the largest bar association in the region and currently has about 20,000 members; mostly advocates.