Grounded Airbus jets back in service soon, says ATCL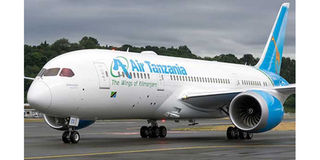 What you need to know:
The national carrier is expected to receive a spare engine before the end of the month, which  will make it possible for one of the three grounded Airbus A220-300 passenger planes to be back in service
Dar es Salaam. Air Tanzania Company Limited (ATCL) expects its three grounded Airbus 220-300 passenger planes to be back in service soon.
The national carrier became the latest airline to ground its Airbus A220 twin-jets about a fortnight ago following a technical issue with its Pratt and Whitney engines.
The carrier grounded three of its four Airbus A220-300's as a result.
ATCL, which was forced to reduce the frequency of some of its flights, expects to receive a spare engine before the end of this month, which will make it possible for one of the grounded planes to be back in service.
This is according to the airline's managing director and CEO, Mr Ladislaus Matindi, who spoke to The Citizen in an exclusive interview earlier in the week.
"Today (Monday) we had a meeting with the Airbus management, and they have promised us to give a spare engine soon," he said.
"We are currently making logistical arrangements with Airbus on how the spare engine will reach us."
On the other two grounded planes, Mr Matindi said the planes' engines were expected to be taken to a maintenance facility located in Frankfurt, Germany, next month.
ATCL currently has 11 aircraft in its fleet, but only one Airbus A220-300 is operational. 
The Citizen understands that there are 250 Airbus A220-300's globally, with the majority said to have been grounded due to problems with the engines.
As a result, the manufacturer is overwhelmed as it is falling short of stock for spare engines and maintenance facilities.
Mr Matindi said they were told during their meeting with Airbus that the company was taking a number of measures to cope with the increasing demand for service from airlines.
 "What they are doing now is to address the shortage of engines by manufacturing more," he said.
The European aircraft manufacturer, Mr Matindi added, was also increasing the number of maintenance facilities from the current three to six.
Meanwhile, the Tanzania Civil Aviation Authority Consumer Consultative Council (TCAA CCC) yesterday urged airlines facing aircraft shortages due to technical or operational problems to consider leasing so as to normalise operations, and thus avoid flight suspensions, cancellations and delays.
"We advise airlines to search for alternatives, including leasing so that they can keep offering services in the aviation market that has been growing rapidly in the country," TCAA CCC said in an advertisement published in the local media yesterday.
Going by the Aviation Source, an aviation news site in the UK, the A220 engine fault can be traced back to 2014.
By that time, the A220 was called the C-Series.
Again, according to the Aviation Source, at that time Bombardier owned the C-Series which was still at an early stage of launch.
On May 29, 2014 during a test flight, there was an uncontained engine failure in which parts separated from the main engine.
However, according to the Aviation Source, the problem was not taken seriously.
The aeroplane was flying normally again when deliveries to airlines were made.
Engine problems were not the centre of attention until 2018 when an incident occurred with a Korean Air A220.
The plane experienced a problem with a low-pressure compressor in one of its engines, forcing it to turn back. From there on, a number of airlines have experienced engine problems.