Igunga community agrees with EACOP to divert pipeline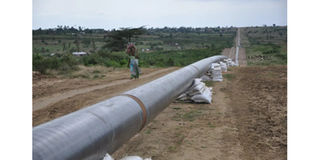 Summary
The community was earlier concerned about the impact of their historical grave sites relating to their culture and ancestry
Igunga. Wataturu community members living in Mwamayoka Village in Igunga District of Tabora Region have signed an agreement with the East African Crude Oil Pipeline (EACOP) Limited that will reroute the pipeline to protect their ancestral graves and sacred sites in respect of their culture and traditions.
The community was earlier concerned about the impact of their historical grave sites relating to their culture and ancestry. But in respect of their cultural and traditional values, the pipeline will therefore divert their historical graves, according to EACOP Tanzania general manager Wendy Brown. The two sides signed an agreement dubbed Free Prior and Informed Consent (FPIC).
Speaking at a ceremony that was attended by hundreds of Wataturu community members, Ms Brown insisted that the EACOP project commits to mitigating the impact associated with the project by signing a FPIC agreement with impacted communities along the pipeline routes. She said that after discussions with the Wataturu community and their traditional leaders, EACOP undertook a technical review and agreed to reroute the pipeline to avoid any impact on their important sites as the project is implemented in compliance with international human rights, social and environmental standards. "EACOP respects the rights and traditions of all vulnerable ethnic groups self-identifying as indigenous peoples," she said.
"EACOP will continue to engage with all project-affected communities and their traditional leaders to ensure that their feedback is considered throughout the planning and implementation of the project," she said. The FPIC agreement expresses the community's acceptance of and consent to the activities of the EACOP project in their community areas.
This is the second FPIC agreement to be signed by EACOP, after doing so with the Akie community living in the northern part of the country.