It was a political assassination attempt, Lissu tells journalists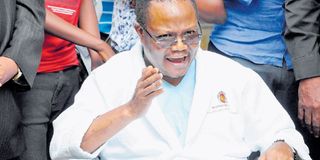 Nairobi. Tanzanian Opposition Chief Whip Tundu Lissu still has one bullet lodged in his body after a September 7, 2017 gun attack outside his Dodoma home.
Speaking to journalists at Nairobi Hospital where he has been admitted since then, Mr Lissu termed his attack a political assassination attempt.
"The attack on me was purely an assassination attempt, which I believe is politically motivate. It is by God's grace that I survived," said Mr Lissu, who left Nairobi Hospital after four months of treatment.
Reacting, government spokesperson Hassan Abassi took to twitter to respond to Mr Lissu's allegations.
"Mr Lissu is still sick. It wouldn't be wise to respond to him while he is in hospital ward," wrote Dr Abassi.
"In Tanzania's post-independence political history and in Tanzania's parliament's history, it has never happened for people to gun down a politician using semi-automatic rifles simply because of his different political views or of his outspokenness inside and outside the parliament," he said.
According to him the attackers trailed him from home to Parliament and from Parliament to home with the intention of killing him.
"About 38 bullets were sprayed on the car that I was in and 16 of them hit me, half of them remained in the body. Dodoma and Nairobi hospitals have removed seven bullets. One will remain in my body because it is too dangerous to remove," said he.
He said he has undergone 17 surgeries todate all aimed at saving his life so he would resume his activities.
"I still have one bullet lodged just below my spine. Doctors feel it's not a threat to me and believe the effort to remove it would be much bigger danger than leaving it in the same place," he said.
According to him Tanzania Parliament has not issued even a single cent on his treatment. This is despite the fact that his relatives have written an official letter asking for financial support.
He asked the international community to pile pressure on the government of President John Magufuli over its human rights record.
"The international community needs to condemn the spate of arrests, disappearances and killings of people that have been on the rise of recently," he said.
He cited the disappearances of Mwananchi Communications Limited journalist Azory Gwanda and former Chadema chairman Freeman Mbowe aide Ben Saanane as act of violation of human rights.
"Despite the disappearance of the journalist, no attempt has been made by the state machinery to trace his whereabouts," he said.
Mr Lissu said it is the government constitutional mandate to protect its citizens.
Outspoken MP warned that Tanzania was "fast sliding down a dark road to dictatorship", saying it was time for concerted efforts by the global community to condemn incidents of human rights violation.
Mr Lissu was attacked on September 7, 2017 outside his residence in Dodoma. He was returning from attending a parliamentary session.