Tanzanian startups exude hope after meeting Harris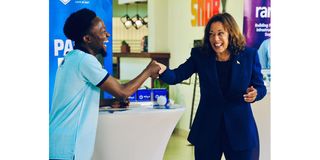 What you need to know:
Startups in the nation are now more optimistic that they will be able to obtain the crucial funding for their expansion as a result of her visit
Dar es Salaam. Tanzanian startups have voiced optimism about increasing investment funding as a result of their recent meeting with US Vice President Kamala Harris, who wrapped up her three-day tour of the nation yesterday.
They told The Citizen that as a result of the visit, start-ups in the country are more confident that they will be able to secure the much-needed capital for their growth.
Ms Harris, who is touring three African countries (Ghana, Tanzania and Zambia), visited the SNDBX space on Thursday, which is a startup and talent incubator based in Dar es Salaam.
During her visit, she discussed a number of topics with local entrepreneurs, including innovations they had created and solutions they were offering, as well as the promotion of innovation and entrepreneurship. The event was part of her three-day visit to Tanzania that commenced on March 29 and ended on March 31, 2023.
The innovation entrepreneurs said increased funding hopes come at a time when Tanzania is reported to be lagging behind in attracting foreign start-up financing.
A recent 2022 report titled Africa: The Big Deal indicates that while Kenya attracted $1.1 billion in start-up financing, Tanzania only managed $80 million during the year under review.
They believed that the spotlight and exposure from the visit of the US VP would attract funding and the attention of investors and customers from different parts of the world.
After her visit, the VP said she had been impressed with all 12 start-ups that showcased their innovations and made presentations.
"The young entrepreneurs I met in Tanzania give me great hope about the future of the world. Their creativity is driving great innovation that will benefit all of us," Ms Harris shared on her social media account.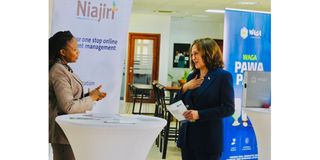 Yesterday, the Tanzania Startup Association (TSA) chief executive officer, Mr Zahoro Muhaji, said the visit provided a huge exposure to the sector both locally and internationally. Furthermore, he said they are expecting to foster more engagements between players from the two countries.
"It is a major spotlight for the Tanzanian local start-up ecosystem. We expect more doors of engagement will be opened locally and internationally, especially on different ways innovators can be supported in the country," he said.
Mr Muhaji said the VP advised the innovators, especially the women, to tap into opportunities provided by the Biden-Harris administration's global initiatives on the economic empowerment of women, amounting to over $1 billion. Three start-ups spoke before the Vice President, who paid them close attention.
They include the Niajiri online platform; Waga Tanzania, which provides sustainable and reliable battery solutions through the use of circular technologies, and Ramani, which is a financial software platform. Niajiri Platform Founder Lillian Madeje said meeting Ms Harris was an important milestone to showcase Tanzania's vibrant start-up ecosystem. "It is important now to leverage this spotlight to grow even further, innovators are active and ready to engage with local and foreign stakeholders," she said.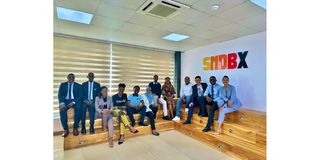 "We consider this a huge exposure opportunity considering the fact that she was interested in what we are doing. The VP was evidently proud of how we (the youth) leverage technology to address challenges facing our country," added Ms Madeje.
The founder of Waga Tanzania, Mr Gibson Kawago, said they expect more access to technology will be opened because the US was a pioneer of different and unique innovations. "Exposure will open new doors of partnership and investment, something that will also motivate the government to increase its support," he said.
Furthermore, Mr Kawago said the US was a critical partner considering that nearly 80 percent of local start-up funding comes from the US.
"This sector should be supported because of its significant contribution to the national economic agenda, such as industrialisation," he said. Speaking to President Samia Suluhu Hassan, Ms Harris said the US will launch a new partnership on 5G technology and cyber-security, among the other issues they agreed on last year.
The two leaders agreed that the partnership would provide capacity building, technical assistance and increase US investment in the Information, Communication and Technology (ICT) sector.
The Tai co-founder, Mr Ian Tarimo tweeted as saying, "Thank you so much, Vice President, for keeping your promise to visit us! We were honoured to showcase just a few of the many creative entrepreneurs and exceptional talents our continent has to offer. We're committed to building a better future for everyone, and we welcome US partnerships."
Other local technology start-ups present include Wasoko, Hashtrack, Sandbox, Jamii Media, Kopa Gas, East Africa Fruits, Apps & Girls and Techy8.
Shule Direct founder Faraja Nyarandu shared through her social media, "It's a new dawn for the innovation ecosystem in Tanzania. I am so grateful to the US Embassy and the Foreign Affairs ministry for pointing the Vice President in the right direction. So proud of TSA and all the start-ups that were showcased during Ms Harris' visit. So much work to do now."