TBC journalist dies while descending Mount Kilimanjaro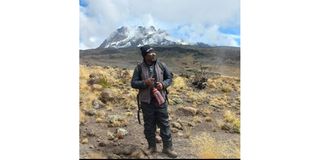 Summary
He climbed the mountain on December 9 to cover news of internet installation on top of Africa's highest peak
Dar es Salaam. The Tanzania Broadcasting Corporation (TBC) journalist, Joachim Kapembe, has died yesterday while descending Mount Kilimanjaro.

TBC on Wednesday December 14, issued a statement concerning the photojournalist's death, saying he was one of the reporters who'd climbed the mountain on December 9 to cover news of internet installation on top of Africa's highest peak.
The trip was led by the Minister for Information, Communications, and Information Technology, Nape Nnauye.

Kapembe was born on February 26, 1977, in Muheza, Tanga. He joined TBC in 2011 as photographer.

He is survived by his wife and two children.