Three hacked to death as gang storms into mosque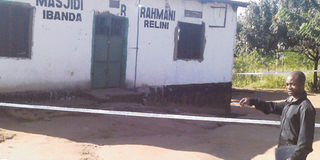 Summary
The regional police boss, Mr Ahmed Msangi, said yesterday that preliminary investigations had established that the victims were attacked with machetes in the evening incident
Mwanza. Police have launched a manhunt for a gang that stormed into a mosque on Wednesday evening and hacked a preacher and two other people to death.
The Imam of Masjid Rahman, Feruz Ismail, 27, was killed in the attack along with Mr Mbwana Rajabu, 40, and Mr Khamis Mponda, 28. A 13-year-old boy was seriously wounded in the attack that took place shortly after evening prayers.
The regional police boss, Mr Ahmed Msangi, said yesterday that preliminary investigations had established that the victims were attacked with machetes, adding that police were hunting for the killers.
Mr Msangi said police were also working to establish the motive for the attack.
Rajabu's widow, Ms Zena Mbwana, said her late husband left their home at around 8pm for evening prayers at the mosque
"He went to the mosque regularly, and yesterday he left as I was preparing supper. A few minutes after he had left, some children came running, saying that the mosque had been attacked. This was followed by the sad news that my husband was among people killed in the attack," she said.
Ms Mbwana added that she was now left with the burden of raising three children – aged 15, seven and one – alone.
Two survivors of the 8.30pm attack said the killers carried a black flag with Arabic inscription. Another eyewitness, Mr Abubakar Makabwe, said at least 15 people took part in the brutal attack.
"They switched off the lights, and ordered all children and women out of the mosque. One shouted that the Iman should be the first to be killed," he said.
There were reports that the gang was also armed automatic weapons and homemade bombs. However, this was not confirmed by police.
Security was tight around the mosque, which was cordoned off as detectives combed the scene for clues.
The head of the Muslim Council of Tanzania (Bakwata) in Nyamagana District, Sheikh Hussein Ibrahim, and several other religious leaders condemned the attack and called for the perpetrators to be brought to justice as soon as possible.
Wednesday's killings took place about ten days after a gang hacked to death seven members of the same family in Sengerema District.