Where are the others?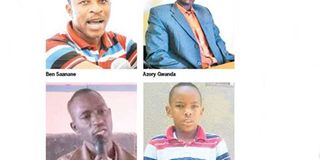 What you need to know:
Questions linger on the whereabouts of Azory Gwanda, Ben Sanane, Simon Kanguye and other missing Tanzanians
Dar es Salaam. As abductors yesterday released Tanzanian tycoon Mohammed Dewji, after holding him for 9 days, questions linger on as to the whereabouts of other missing Tanzanians including Azory Gwanda, Ben Saanane and Simon Kanguye.
In separate incidents, Mr Gwanda, Mr Saanane and Mr Kanguye were abducted by unknown people. But the government has maintained that investigations into their disappearances are still going on.
Mr Saanane, an activist and Chadema politician, was abducted in November 2016, Mr Gwanda (a Mwananchi Communications Limited correspondent) was abducted in November 2017, and Mr Kanguye, an opposition leader in Kigoma Region, was reportedly kidnapped by a gang that disappeared with him to an unknown destination.
As for Mo Dewji, news of his release by his abductors started streaming in early yesterday and later confirmed by government officials.
The abductors released him at the Gymkhana Club grounds in the heart of Dar es Salaam, where they also dumped the vehicle that was believed to have been used in his abduction.
The abduction occurred on October 11 as the tycoon went for a morning workout at the Colosseum Hotel gym.
Home Affairs shadow minister Godbless Lema on October 16 urged the government to allow independent forensic investigations into a series of abductions which have tainted the country's image.
He also asked the police to track down those who attacked and shot Singida East legislator Tundu Lissu, in Dodoma last year.
Mr Lema urged the government to seek international assistance to carry out a holistic investigations into all incidents of abduction, saying the reluctance to do so would mean the government was complicit in the motive of the culprits.
However, the Home Affairs deputy minister Hamad Masauni has since told the media, "We don't see any need for engaging international investigators. We have the best army and the best security service. We have not yet failed."
Over the past two years, there has been a clamour by civil society, opposition politicians and the media, asking the government to investigate and possibly reveal people behind the attacks.
In mid last year, the shooting of opposition Chief Whip Tundu Lissu triggered a hot debate over cases of attacks blamed on "unknown" or "unidentified" people and in almost all cases the attackers have remained at large.
The unknown assailants sprayed 32 bullets at Lissu's vehicle in Dodoma and most of the bullets wounded the firebrand lawmaker, in one of the most shocking incidents that have left the nation guessing who the assailants were or what their motive was.
Now that Mo Dewji has been released alive, it remains to be seen what the fate of the other missing Tanzanians would be.