Prime
Why Tanzania government is in constant reform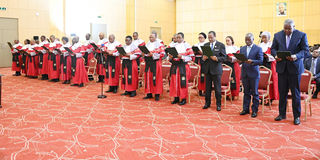 What you need to know:
President Samia Suluhu Hassan says Tanzania must change in line with global changes.
Dar es Salaam. President Samia Suluhu Hassan yesterday reiterated that the changes she was making in the Central Government and the Judiciary were meant to see Tanzania keep pace with the changing global geopolitics and economy.
Speaking at the State House in Dar es Salaam during an event to swear in 20 High Court Judges, four Court of Appeal Justices, and other top officials she appointed recently, the President said Tanzania must change in line with global changes.
"The Executive, the Legislature, and the Judiciary must all change in line with the ongoing global changes," she said.
 The Head of State said despite the global trends and the need to appoint more judges, her government will do it to the extent the economy permits.
As Tanzania's economy grows, she said, it was important to ensure the judiciary has the required manpower and technology to serve the needs of the growing economy and a changing global landscape.
"That's why I decided to start with the appointment of 20 judges out of a list of 70 names submitted to me by the Judicial Service Commission as I weigh the status of our economy before I can appoints the remaining 50," she said.
She said the appointments was a deliberate move to make the courts more effective and timely in delivery of justice.
The Head of State said the appointments were also part of the implementation of the recommendations of the criminal justice reforms committee that called for improvement of the Judiciary in the three key areas: investment in the Information Communication Technology (ICT), infrastructure development (building) and increasing human resources (workers).
"The huge burden of Judges during retirement has forced me to pick those who will spend some years in the service before retirement to reduce the encumbrance to the government in terms of payment of terminal benefits," she added.
President Hassan said the new judges have been directed to work hard basing on their professionalism to meet expectations of the public in the dispensation of justice.
Chief Justice (CJ), Prof Ibrahim Juma, said the Sixth Phase Government has appointed 19 judges of the Court of Appeal and 63 of the High Court, making a total of 105."
National Assembly Speaker, Tulia Ackson, said the Parliament was optimistic the new appointment will help reduce complaint of delay of justices.