Divorce drama as Morocco footballer Achraf Hakimi's wife discovers he owns 'nothing'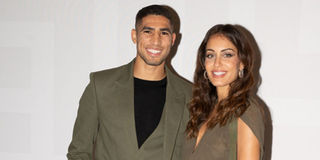 Moroccan international Achraf Hakimi has become a trending topic across the world after his wife discovered he owns nothing despite earning millions of Euros with Paris Saint Germain and the Moroccan national football team.
This discovery was made during ongoing divorce proceedings in court after his wife, Hiba Abouk, filed for divorce and asked for half of all the property and money the footballer owned.
To her shock, she discovered that Hakimi, 24, had registered all his properties and monies in his mother's name, and whenever he needed anything, he would ask his mother to buy it for him.
All his houses, cars, clothes, and jewelry were found to be in his mother's name, and millions in salary were deposited in accounts bearing his mother's name.
It was reported that 80 percent of all that he owns is registered in his mother's name.
The couple began dating in 2018, married in 2020 and have two sons. She filed for divorce around March 2023.
 Hakimi being investigated in Paris, France, for alleged rape was the final nail in the coffin even as his marriage to the Spanish actress had already been deteriorating for months prior.
Hakimi's move of not having his wealth registered in his name has made news worldwide, as some hailed him for being 'wise' and a living legend in protecting his assets; while others castigated Hakimi and his mother.
"Get this man the Africa football player of the year award immediately. We are also working tirelessly to have him as the guest of honor in the next men's conference," said Elijah Edwin from Uganda.
"They're just married for 3 years and she wants half his property already. If they were married for 20 years she would have requested for his life alongside the entire properties. Black athletes should learn from this," added Somto.
"Achraf Hakimi is his name. A man who could see deceit way before. A true legend," said Gitonga Patrick2.
"That was chess not checkers. Well played," added Belle Achieng.
"Mummy boy for life. We may argue disagree sometimes even block them for sanity's sake, and unblock them afterward. But when it comes to making life decisions, mummy's boy for life," Agu Ofodile opined.
"This is not right. Yes, things may have happened that leads them to divorce. But she is a human being, who sacrificed 2years of her life with Hakimi. She gave him something everyone human being needs, companionship. She deserves to leave with something," countered James Atite Sr.
"Marriage is going to loose value if a woman can spend years in marriage and leave without any additional value," said Nabadda Sumayiya.