Foreign players lead Golden Boot race as league hots up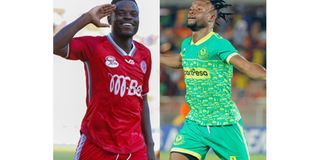 Summary
Yanga's Congolese striker Fiston Mayele is leading the scoring table with 10 goals and is followed by Zambian striker Moses Phiri of Simba SC with eight goals
Dar es Salaam. As the Mainland Tanzania NBC Premier League gathers pace with KMC hosting Mbeya City today at the Uhuru Stadium in Dar es Salaam, foreign players lead the Golden Boot award race against local players.
KMC, who are placed in the 10th position with 15 points from 14 matches, are targeting victory in order to improve their position in the league standings and leapfrog Kagera Sugar and Namungo FC, who are placed ninth and eighth respectively with each collecting 18 points.
Mbeya City, who are placed seventh with 19 points from 14 matches, also target victory in order to replace fifth placed Mtibwa Sugar and Geita Gold FC who have each collected 21 points from 14 matches.
KMC head coach Thierry Hitimana said they have prepared well for the encounter and are hopeful to record a good result. He said in their previous match against Tanzania Prisons at the same venue the result was not impressive after ending in a barren draw.
"Before that, we lost to Singida Big Stars and Dodoma Jiji FC. Those were not good results for us. Now we have targeted to return to our winning ways. We need to prove our worth, although we are going to face one of the tough teams in the league," said Hitimana.
Mbeya City FC assistant coach Anthony Mwamlima also said they are targeting a good result in the encounter. "Our last match was not good for us as we lost 2-0 to Yanga. Before that, we drew 1-1 against Simba, 0-0 against Geita Gold FC, 2-2 against Kagera Sugar and 2-2 against Coastal Union. We need to record victory and improve our chance," said Mwamlima.
Meanwhile, foreign players are placed at the top of the Golden Boot race as the league reaches the end of its first round. Yanga's Congolese striker Fiston Mayele is leading the scoring table with 10 goals and is followed by Zambian striker Moses Phiri of Simba SC with eight goals.
Mbeya City striker Sixtus Sabilo is third with seven goals while Reliant Lusajo of Namungo FC, Mubarack Hamza of Coastal Union and Congolese Idris Mbombo of Azam FC have each scored six goals.
Players who have each scored four goals are Feisal Salum of Yanga, Matheo Anthony (KMC), Anuary Jabair (Kagera Sugar), Tariq Seif (Mbeya City), Abalkassim Suleiman (Ruvu Shooting) and John Bocco of Simba SC.
Zimbabwean striker Prince Dube of Azam FC and Rwandan Meddi Kagere of Singida Big Stars have each scored three goal while Bakari Mwamnyeto of Yanga and Tepsie Evans of Azam FC have each scored two goals in the top flight league.