Top drivers set to kick up the dust in Mount Uluguru Rally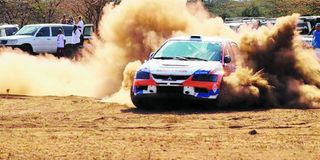 Summary
The rally, dubbed the Mount Uluguru Rally Championship (MURC), will feature 15 drivers and cover 156 kilometres, according to organisers
Dar es Salaam. Top drivers are expected to compete in the sixth round of the National Rally Championship (NRC) scheduled to take place in Morogoro on Saturday.
The event was earlier scheduled for last Saturday as per Automobile Association of Tanzania (AAT) calendar before being rescheduled to the current date.
The rally, dubbed the Mount Uluguru Rally Championship (MURC), will feature 15 drivers and cover 156 kilometres, according to Mosi Makau, who is Mount Uluguru Rally Club patron and the event's chairman.
Makau said there will be three drivers who will be contesting the top three positions in the event, namely Manveer Birdi, Tufail Tufail and Gurpal Sandhu.
Birdi is leading the NRC standings after garnering 107 points while Tufail is placed second with 92 points and Sandhu third with 81 points.
Other drivers in the top five are Charles Bicco, with 71 points, and Harinder Deere, who has collected 72 points.
"The deadline for drivers to confirm their participation in the event is today (Tuesday). I call on all drivers to confirm before we close the door," said Makau.
For his part, Birdi said that his target has been to do well this year and win the title despite strong opposition from other drivers. "My navigator Ravi Chana and I need to prove our worth in the final event in Morogoro over the weekend. We did our best in the past event and our target is to prove that we deserve to stand on the podium as the winners of this year's edition," said Birdi.
He noted that the final event will likely be tough because other drivers will also be targeting to shine and score many points that will make them improve their chances in the standings.