Yanga, Simba still face tough tasks to qualify for CAF groups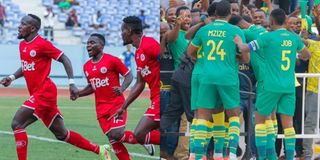 What you need to know:
Yanga recorded a 2-0 away win against El Merreikh of Sudan  while Simba recorded 2-2 draw against Power Dynamos of Zambia
Dar es Salaam. Tanzania's representatives in the CAF Champions League, Young Africans (Yanga) and Simba, still face an uphill task to qualify for the group' stage despite their best results in away venues over the weekend.
Yanga recorded a 2-0 away win against El Merreikh of Sudan and need only a draw in the return leg at the Azam Complex at the end of this month.
The Jangwani Street giants need at least a draw in order to qualify for the group's stage for the second time since 1998.
Should Yanga lose 3-0, be eliminated from the competition, or record 2-2, the winner would be decided in a penalty shootout.
Yanga head coach Miguel Gamondi congratulated the players for their best performances in the encounter, despite the fact that they failed to utilize many of the clear scoring chances they created.
Gamondi said they deserved to win more than two goals in the encounter.
He said that they are not done with Al Merrikh as they still have another 90 minutes at home and have to be very keen in the return leg.
"I commended the players for the best show and winning the encounter. We had a good ninety minutes. We faced strong opposition from the Sudanese side, and we respect our opponents, but I think we deserved a bigger victory than this according to how we created open spaces," said Gamondi.
The first match is done, and we are now waiting for the second match that will determine our fate.
Meanwhile, Simba also faces a tough test against Power Dynamos, despite the 2-2 draw away.
Simba need at least a 1-1 draw against the Zambian giants in the return leg and need to be very careful to avoid defeat in the encounter.
Simba's coach, Oliveira alias Roberto Oliveira alias Robertihno, said it was not their best day because they failed to win away from home despite creating many chances and failing to use them, but the match is not over as they have a replay that will decide the team to advance to the groups, and the team is determined to do it right.
Robertinho said they are now back in the Mainland Tanzania League matches, but they will use the matches to rectify mistakes so that they can win and qualify for the group stages.
"We have played well, although we made some mistakes that gave our opponents a chance, but we still have a big chance, and we will come back stronger when we are at home," said Robertinho.