Cruise ship changes course from Mombasa to Zanzibar and Dar es Salaam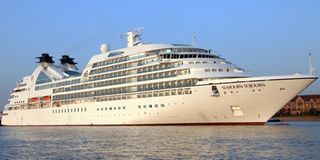 A cruise ship that was destined for the port of Mombasa has changed its course to Tanzania in the face of the ongoing nationwide opposition demonstrations in Kenya.
The MV Seabourn Sojourn, sailing from Mahe, Seychelles, with 800 tourists will now dock in Zanzibar and Dar es Salaam for six days before sailing to South Africa.
It began its voyage in Miami, Florida, in January. The voyage will end on May 27 in Barcelona, Spain. Originally Kenya was on the itinerary with the ship set to dock at the port of Mombasa.
The Seabourn Sojourn is sailing for 140 days, visiting 58 ports in 27 countries and six continents with 12 overnights.
The MV Seabourn Sojourn was built in 2010 by T. Mariotti  in Genoa, Italy and sailed under Bahamas flag.
The cancellation of the cruise ship which is one among many in Kenya has hit the tourism industry hard with analysts saying the East African nation is losing out on millions of dollars.
"We have lost a lot of money. From past experience, each passenger spends a minimum of about $200  a day. For three days that's $600, We have lost $800,000, assuming each would have spent that amount," said Mr Masemo.
At the Masai Mara National Reserve and in Nakuru County, hotels are counting losses running into hundreds of millions of shillings.
East Africa Tour Guides and Drivers Association Chairman Felix Migoya said the protests were creating a negative image for the region's tourism.
Mr Migoya said the protests might erode the gains the tourism sector made after recovering from the effects of the Covid-19 pandemic period.
Additional reporting by Paul Owere