Son of ousted Gabon leader charged with treason, graft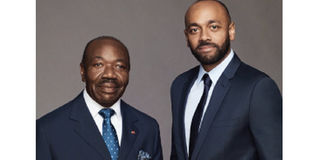 What you need to know:
Ten of Omar Bongo's 54 children have been charged with allegedly concealing the misappropriation of public funds
Libreville. The son of Ali Bongo Ondimba and several allies of the ousted Gabon president have been charged with high treason and corruption and placed in custody, the state prosecutor told AFP Wednesday.
Bongo's eldest son Noureddin Bongo Valentin and former presidential spokesman Jessye Ella Ekogha, as well as four others close to the deposed leader, "have been charged and placed in provisional detention" on Tuesday, said Libreville prosecutor Andre-Patrick Roponat.
They face a range of charges including high treason against state institutions, massive misappropriation of public funds, forgery of the president's signature, corruption and drug trafficking.
Bongo, 64, who had ruled the oil-rich central African country since 2009, was ousted by military leaders on August 30, moments after being proclaimed the winner in a presidential election.
The result was branded a fraud by the opposition and the military coup leaders, who have also accused his regime of widespread corruption and bad governance.
On the same day as the coup, soldiers arrested one of Bongo's sons, five senior cabinet officials and his wife Sylvia Bongo Valentin.
National TV showed rolling images of those arrested in front of suitcases filled with cash allegedly seized from their homes.
Sylvia Bongo Valentin is under house arrest in the capital Libreville "for her protection", according to authorities. Her lawyers say she is being held "arbitrarily".
Bongo, who was himself under house arrest for several days after the coup, is "free to move around" and go abroad, the country's new military ruler General Brice Oligui Nguema said on September 6.
Oligui has been sworn in as interim president after spearheading the coup that ended a half-century of rule by the Bongo family.
He has promised to hold "free, transparent and credible elections" to restore civilian rule but has not given a timeframe.
Shortly after being sworn in, the new strongman warned business chiefs that corruption would no longer be tolerated.
Ali Bongo took over when his father Omar died in 2009 after nearly 42 years in power.
In 2016, French investigators zeroed in on properties owned by Omar Bongo's family in France.
They suspected several of his relatives had knowingly benefitted from a fraudulently acquired real-estate empire worth at least 85 million euros ($87 million).
10 of Omar Bongo's 54 children have been charged with allegedly concealing the misappropriation of public funds, a Paris-based legal source has told AFP.
As a sitting head of state, Ali Bongo had immunity