UN grants one-year extension to Afghanistan mission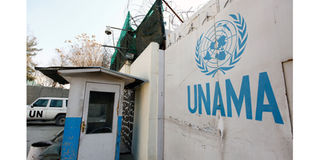 The Security Council on Thursday renewed the United Nations Mission in Afghanistan (UNAMA) for another year, while also asking for recommendations on the best way for the international community to continue its work in the Taliban-ruled country.
The 15-member council unanimously adopted two resolutions, both drafted by the United Arab Emirates and Japan.
The first "stresses the critical importance of a continued presence of UNAMA" and other UN agencies within Afghanistan, which has been under Taliban rule since the hardline Islamist group took control of Kabul in August 2021.
Thursday's resolution, which extends the mission until March 17, 2024, does not change the UNAMA's mandate, as defined by last year's resolution, "in promoting peace and stability in Afghanistan."
The second resolution asks Secretary-General Antonio Guterres to conduct an "integrated, independent assessment" of the situation in the country, and report back to the Security Council by November 17 with "forward-looking recommendations for an integrated and coherent approach among relevant political, humanitarian, and development actors."
The report should include information on addressing "humanitarian (challenges), human rights and especially the rights of women and girls, religious and ethnic minorities, security and terrorism, narcotics, development, economic and social challenges, dialogue, governance and the rule of law," the resolution said.
"We're all aware the situation in Afghanistan is extremely challenging, and that our options are actually very limited, but the status quo is not sustainable," UAE UN ambassador Lana Zaki Nusseibeh said.
She noted that, given the Taliban's tightening restrictions on Afghan women and girls, some people, "including many Afghan women," have accused the global community of lacking a "coordinated international political strategy" for dealing with the challenges within the country.
"By requesting this independent assessment, the council is taking a careful and measured response to a difficult crisis with outside expertise and fresh thinking," Nusseibeh said