Nyege Nyege: The devil won, I lost — Fr Lokodo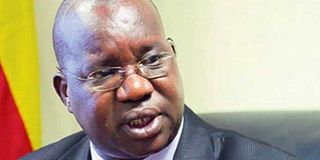 What you need to know:
"I tried my best to block it, but the devil has a strong hand. I had to backtrack," the minister said yesterday in the northern Gulu District.

Gulu. Ethics minister Simon Lokodo has said he lost a spirited fight to stop the staging of Nyege Nyege, a social carnival that got underway in Jinja Town yesterday, because the devil had a "stronger hand".
"I tried my best to block it, but the devil has a strong hand. I had to backtrack," the minister said yesterday in the northern Gulu District.
He added: "The first day (on Tuesday) I announced that it (Nyege Nyege) won't happen, but yesterday (Wednesday) because of pressure from all sides, my elders and even my own boss, I had to concede defeat."
Mr Lokodo did not name the superior or provide context for his reference of an omnipotence of the devil in his meltdown to have the jamboree proceed. Uganda's biggest telecommunications company, MTN, is sponsoring the Nyege Nyege festival originally started four years ago by Derrick Dediu, 36, a Burundi-born Belgian citizen. 
Organisers expect to draw 8,000 people, up from 6,000 last year, to this year's Nyege Nyege edition at Nile Discovery Resort, on the banks of River Nile.
Up to 1,500 of the party-goers will be foreigners and this, according to protagonists, will rake in foreign exchange for the country, promote its tourism potential while enabling Ugandan artists and artistes showcase their talent.
Business opportunities
There is also the business argument: ranging from tourists snapping up hotel rooms and private homes for owners to make quick cash, market for food and crafts on sale.
In yesterday's comments, which came a day after an inter-ministerial meeting authorised the carnival, minister Lokodo retorted: "This thing (Nyege Nyege) is not the best at all.
I have dug into it and established that it's not innocent. It's an instrument being used by our brothers and sisters of Western world to introduce to us a culture, a behaviour and attitude that is foreign and not in our laws, culture and religion."
He provided no details of how he was out-witted or coerced during the meeting. 
After the meeting, both Lokodo and police issued statement clearing Nyege Nyege, subject to 11 conditions.
"...the event is now cleared to proceed subject to the guidelines and conditions we have agreed upon with the organisers [that] they have pledged total compliance with," Mr Lokodo noted. 
He did not state then that he had been pressured. 
The government conditions include police having unfettered access to the venue, both day and at night; police and organisers to jointly register and screen participants, ban on children, organisers to provide event's detailed programme to police; no processions to and from the venue; and, police and Tight Security, a private security firm, to jointly secure the merry-making event.
On Tuesday, minister Lukodo, citing what he said was credible information and complaints by religious leaders, called off the festival on grounds that it was a pretext for sex carrousel, including bestiality, and generally promoted immorality and homosexuality.
Yesterday's Gulu event was to launch the updated module and leader support system of the Inspectorate of Government online Declaration System [IG-ODS]. The IGG falls under the Ethics ministry.
Preventive measures
IGG-ODS is part of government's concerted efforts and preventive measures to fight corruption in the country. 
The deputy IGG Mr George Bamugemereire said the current corruption cases are "systematically" executed, adding that the aspect of enforcing arrests would alone not end the vice.
"The challenge with arrest alone is sometimes it happened when loss has already occurred and the money is gone sometime years or months (earlier). Even the thief that we arrest has spent all of it and it cannot be recovered, but all [we can do] is put the person in prison," he said.
Mr Bamugemereire added: "Over the last financial year, we focused on the preventive initiative particularly in northern Uganda because it saved us from the loss of the [government resources]." 
The IGG successfully investigated fifteen high profile corruption cases last year, he said, and inspected 1310 government programmes.