Simba meet Dodoma Jiji in NBC League encounter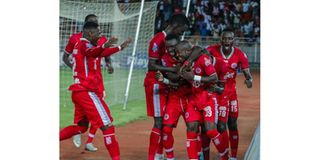 Summary
Also, Mbeya City FC play against Mtibwa Sugar at the Sokoine Stadium in Mbeya in another league encounter kicking-off at 4pm
Dar es Salaam. Football giants in the country Simba SC today face a challenging task against Dodoma Jiji FC in the Mainland Premier League match at the Jamhuri Stadium in Dodoma.
Today's fixture also shows that Mbeya City FC play against Mtibwa Sugar at the Sokoine Stadium in Mbeya in another league encounter kicking-off at 4pm.
Simba, who are placed in the second position with 47 points from 20 matches in the league's standings, seek to reduce the point gap against their traditional rivals Young Africans (Yanga) who are at the top with 53 points from 20 matches.
Dodoma Jiji are placed in the 12th position after collecting 21 points from 20 matches. The match will be the second for Simba's new head coach Oliviera Robertihno. The Brazilian trainer guided the Msimbazi Street side in their immediate past match against Mbeya City and won 3-2 at the Benjamin Mkapa Stadium in Dar es Salaam.
Robertihno said they are targeting to win over Dodoma Jiji in the encounter and continue to chase the first position in the league standings. He said Dodoma Jiji are among the tough teams in the league and that they will have to be very keen throughout the game in order to secure victory. He said his players have trained well and their morale is very high ahead of the encounter.
"We need to maintain our winning streak. We are now at the top and widening the point gap is very important because we will be assured of clinching the title.
"We have no time to rest as the fixture is tight, and we need only one or two days to rest, we have to prove our worth by winning our games," said Robertihno.
"I have truly committed players and I am sure they will do their best. It is not going to be an easy match as Dodoma Jiji have talented players," he added.
Dodoma Jiji assistant coach Kassim Liyogope said they have prepared well for the encounter, and they are targeting victory.
"We have trained well and my players are in good shape. We are aware that we are going to face the former champions over whom we target victory in order to improve our chances in the league standings," said Liyogope.