Rwanda genocide fugitive Fulgence Kayishema appears in South Africa court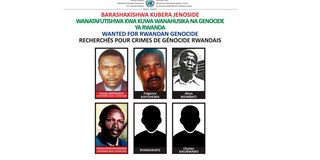 Fulgence Kayishema, one of the last fugitives sought over the 1994 Rwanda genocide, appeared before a court in Cape Town on Friday, two days after being arrested following 22 years on the run.
He allegedly took part in one of the genocide's bloodiest episodes, when thousands of men, women and children who had sought shelter in a church were slaughtered.
Wearing a blue jacket, black trousers and spectacles, and flanked by armed officers with helmets and bullet-proof vests, Kayishema identified himself before the packed courtroom. 
The 62-year-old appeared calm and composed as a state prosecutor read out the accusations against him.
They include "genocide" and conspiracy to commit genocide "relating to the slaughter of more than 2,000 people in Rwanda in 1994," prosecutor Nathan Adriaanse told the court.
At the end of a short hearing, magistrate Ronel Oliver remanded him into custody. 
He is to be held at Cape Town's maximum security Pollsmoor prison until a next court appearance scheduled for June 2. 
The former Rwandan police inspector was arrested on Wednesday at a grape farm in the small winelands town of Paarl, 60 kilometres (35 miles) north of Cape Town.
He had been living in South Africa under an alias for more than two decades, prosecutors said.
He is described by the International Residual Mechanism for Criminal Tribunals (MICT) -- the successor to the UN court that prosecuted scores of major suspects -- as "one of the world's most wanted genocide fugitives."
Around 800,000 Rwandans, most of them ethnic Tutsis, were slaughtered over 100 days at the hands of Hutu extremists. 
Kayishema and others allegedly murdered more than 2,000 men, women and children who had taken refuge in a Catholic church in Nyange in Kivumu district.
"Kayishema directly participated in the planning and execution of this massacre, including by procuring and distributing petrol to burn down the church with the refugees inside," the MICT said on Thursday, announcing his arrest.
"When this failed, Kayishema and others used a bulldozer to collapse the church, burying and killing the refugees inside."
"Kayishema and others then supervised the transfer of corpses from the church grounds into mass graves."
South African police said the arrest was made in response to an Interpol red notice, and the suspect had been living under the false name of Donatien Nibashumba.
Eric Ntabazalila, a spokesman for the National Prosecuting Authority (NPA), said Kayishema applied for asylum in South Africa in January 2000, pretending to be a citizen of Burundi. 
Four years later he used the same alias to apply for refugee status, Ntabazalila said, adding the suspect was understood to be a "family man". 
On Friday, the court was told Kayishema would be facing additional charges of fraud and contravening immigration laws in South Africa, and further charges were likely to follow.