New Tigo, Zantel owner promises huge investment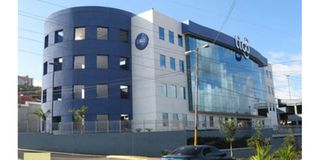 Summary
Axian Group of Madagascar says it plans to spend $400 million in the next five years to increase 4G network coverage, extend access to affordable mobile services, accelerate digitalisation and improve financial inclusion through affordable and innovative mobile financial services
Dar es Salaam. Axian Group of Madagascar is buying Tigo and Zantel in Tanzania in a move that is expected to further whip up competition in the country's telecommunications sector.
Although the transaction, whose value has yet to be revealed, is subject to customary closing conditions and regulatory approvals, the Antananarivo-based firm is already promising to make "significant investment" in Tanzania and Zanzibar during the next five years.
Tanzania will be Axian's first excursion into an Anglophone country, where the firm plans to invest $400 million (Sh920 billion) in five years.
"We already have shared infrastructure. We're very much interested in this market, which is not far from our home market," Axian chief executive Hassanein Hiridjee said.
In the statement posted on its website (https://www.axian-group.com), the company says, "It (the consortium) intends to revolutionize the telecommunications ecosystem by placing customers and their needs at the core of their business while at the same time strengthening the quality and scope of the network's coverage and associated services."
The company said it would have four main strategic priorities in Tanzania and Zanzibar, including significantly increasing 4G network coverage for both Tigo Tanzania and Zantel.
It also plans to extend access to affordable mobile services and accelerate digitalisation, while also improving financial inclusion through affordable and innovative mobile financial services offers.
With a total of 13 million subscribers as of December 2020, Tigo held a 25 percent subscription share in a market where seven operators had issued about 51 million subscriber identification module (Sim) cards, according to Tanzania Communications Regulatory Authority (TCRA) figures.
The company was behind market leader Vodacom, which had issued 15.6 million subscriptions (31 percent), and second-placed Airtel, which had 13.8 million (27 percent). Zantel had one million subscribers, representing a market share of two percent.
Tigo was, however, ahead of Airtel in terms of mobile money subscriptions, whereby as of December, the former had nine million subscribers, representing 28 percent of the market share, while the latter had 6.5 million, equivalent to 20 percent of a total of 32 million subscribers.
According to Axian Group's statement, 6.6 million of subscribers using Tigo and Zantel mobile money platforms were connected with 49 banks in Tanzania.
The firm is also promising to encourage professional growth and training among employees.
"The alliance intends to have a prior focus on mobility, agility, training and shared knowledge for all employees within the group."
Axian owns Telma, a telecom firm operating in Madagascar, Comoros, Réunion Island and Mayotte, and has a presence in Senegal through its operator Free Senegal, formerly Tigo, and in Togo, through Togocom.
The company was the first to roll out 5G in Africa and is one of the biggest investors in the EASSy — 10,000km submarine cable system deployed along the east and south coast of Africa that carries voice, data, video and internet services.
Last June Madagascan operator Telma announced the launch of its 5G network in its landmark partnership with Ericsson.
Telma switched on its 5G commercial network on June 30 in what promised new experiences in gaming and entertainment services, to IoT and business applications for Telma customers.
However, one month later, the Madagascan telecommunications regulator put it on hold on the grounds it was not yet the time for commercialising 5G services.
Earlier yesterday, Millicom International Cellular S.A. (Millicom) announced that it was selling its Tanzanian subsidiaries (Tigo and Zantel).
The telecom firm, which is listed on Nasdaq (New York City) and Stockholm (Sweden) stock markets, said in the statement that it had already signed an agreement for the sale of its entire operations in Tanzania to a consortium led by Axian Group.
The sale is part of Millicom's strategy to exit Africa and focus on Latin America.
With $366 million in revenues last year, Tanzania represents a meagre six per cent of Millicom's total revenue, Financial Times reported yesterday.
Africa, the Miami-based company told Financial Times, had historically generated lower returns than Latin America, where it has very profitable operations, especially in Guatemala, El Salvador, and Panama.
Millicom, via its Tigo brand, accounts for more than 52 million mobile subscribers across 11 countries in Latin America and Africa.
Yet, over the past four years, it has sold its operations in the Democratic Republic of Congo, Rwanda, Senegal, and Chad. On Friday, it agreed to transfer its stake in AirtelTigo to the government of Ghana — where it had a joint venture with India's Airtel — taking on a $25 million charge.
Millicom's decision to sell Tigo in Tanzania means that the firm will be fully exiting Africa this year.