Mgunda: It is too early to predict top flight winners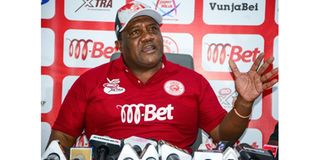 Summary
Yanga lead the league with 35 points (minus yesterday's match result against Namungo FC). Azam FC are second with 35 points, but differ with Yanga in goal average. Simba are third with 34 points
Dar es Salaam. Simba Sports Club head coach Juma Mgunda has said it is too early to predict winners of this season's Tanzania Mainland Premier League title, despite big guns dominating top three positions.
Yanga are at the top of the league standings with 35 points (excluding yesterday's match result against Namungo FC).
Azam FC are placed second with 35 points from 15 matches, but differ with Yanga in goal average. Yanga have scored 25 goals and conceded eight while Azam FC have scored 22 goals and conceded 13.
Simba are third with 34 points. Mgunda predicted that the second round of the league will be the toughest, saying that each team will be targeting victory in order to improve their position in the standings.
"We have just finished the first round and the point gap is just one point with the top team. There is still room of levelling with the league leaders or getting more points in return legs.
"There is no guarantee as to who will emerge victorious in a match and that's why I am saying it is too early to predict winners of this season's Mainland Premier League. This is because there are still many matches to be played in the second round," said Mgunda. He explained that any team can win over another and all competing teams are strong despite the current results.
"So far, we have two injuries, Peter Banda and Israel Mwenda. "Other players are doing fine and are targeting to make the team proud of good results in the ongoing league and other competitions," he said.