Samia needs to carry the country with her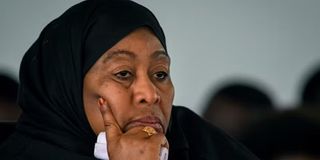 After two years in power, President Samia Suluhu Hassan has consolidated her political base, opened up the media space and increased the number of women in public appointments. But Tanzania is not yet out of the woods.
Years of failed accountability created the conditions for the rise of authoritarianism and the worrying absence of strong constitutional safeguards.
The continued absence of these safeguards means that the risk of a backward slide remains. In a 2022-2023 report produced for the Center for Strategic Litigation, a not-for-profit organisation based in Tanzania, we reviewed the main developments in Tanzania's civic space. The report covers six areas: political trends; media and access to information; rights and civil society; economic governance; Zanzibar's governance; and performance in East Africa. In this article, we unpack the findings in some of these areas. The report finds that current reform efforts aren't sustainable because they lack popular participation and grounding in any legal or constitutional safeguards. As a political science scholar, I have been studying Tanzania's politics in the last 10 years.
We conclude in our report that Tanzania is yet to develop the resiliency necessary to fight any future assault on its fledgling democracy should it occur, given the country's weak constitutional order.
The report's main sources are the Center for Strategic Litigation's monthly updates on politics, the media and civil society as well as public finance management and economic governance. We reviewed materials published in the official, private and social media.
We also conducted interviews with officials and political, private and civil society actors and observers.
President Hassan has asserted her authority over Tanzania's ruling Chama cha Mapinduzi, abandoned some of the worst anti-democratic practices of her predecessor, and established her credentials to lead the country for the remainder of her term. She used her party's elections in 2022 to sideline her predecessor's loyalists and consolidate her own power base.
This base may be sufficient to pull through transformative and far reaching changes such as electoral reforms and ultimately a new constitution. But to do this she needs to have a definite timeline for a new constitution.
Tanzanian media houses acknowledge the improvements in state-media relations during the last two years.
They also note, however, that the old threats to media freedom in Tanzania persist.
Journalists and media workers continue to face threats against their safety, intimidation and arbitrary arrest.
Civil liberties remain threatened.
The criminal justice system continues to abuse the rule of law in the absence of legal safeguards for most of these liberties. In December 2021, President Hassan noted: "Some police officers take bribes, use excessive force in carrying out their duties, and use offensive language".According to a REPOA and Afrobarometer survey, nearly a quarter of Tanzanians (23 percent) consider that all or most of the police are involved in corruption. For many years, Maasai communities have conflicted with the state over residence and grazing rights in the Ngorongoro Conservation Area (NCA) and in the Loliondo Game Controlled Area.
These areas have been leased for hunting by a company associated with the Emirati royal family.
In 2022, both conflicts re-erupted and led to confrontations and prosecutions.
Affected communities have filed several cases concerning rights abuses in the East African Court of Justice and the High Court of Tanzania. The president has deftly played the gender card, increasing the proportion of women at ministerial, regional and district commissioner levels.
Critics, however, have pointed out that she focuses on promoting women from within "the system".
They dismiss her efforts as political rewards for loyalists.
The business environment continues to discourage investors with its bureaucracy, risks and corruption.
This is despite initiatives such as the ambitious five-year industrialisation policy. Theft, fraud and corruption are among the main concerns of businesses, according to the 2023 Allianz Risk Barometer.
The steady empowerment of state agencies in productive areas that should arguably be the reserve of the private sector also remain a concern for Tanzania's nascent private sector.
These sectors include banking, clearing and forwarding, and water and air transport. State agencies run companies in all major productive sectors. The country's industrial policy also sets it at odds with the 2015 Paris Agreement to reduce carbon emissions.
The policy promotes fossil fuels over carbon emission reductions. In recent years, Tanzania has become a serious coal producer and exporter.
The government's commitment to the US$6 billion Uganda-Tanzania East African Crude Oil Pipeline project is a case in point.
The project has been challenged on social, environmental and climate change grounds.
About the author: Nicodemus Minde is an Adjunct Lecturer, United States International University - Africa, United States International University.
Brian Cooksey and Deus Valentine of the Center for Strategic Litigation participated in compiling this report.