Yanga, SportPesa on a collision path over sponsorship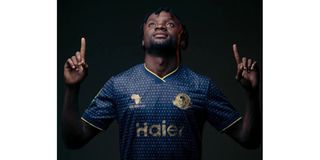 Summary
According to SportPesa the deal between Yanga and Haier is a breach of contract
Two days after Yanga announced that it had signed another bumper sponsorship deal for its campaign in CAF Confederation tournament, the club's main sponsors SportPesa has said the deal is a breach of contract.
Yanga entered into an agreement with Chinese company Haier worth Sh2.1 billion in those CAF matches, whereas Yanga's hierarchy was quoted as saying that they got the consent of SportPesa, the gaming company on Wednesday denied the existence of any such agreement
According to SportPesa the reigning NBC Premier League Champions entered the agreement at a time when a decision was yet to be made on the shirt sponsors given the fact that there was a conflict of interest between CAF's sponsors which is also a gaming company.
However, one of Yanga's top officials who spoke on condition of anonymity said that after their team qualified for the CAF group stage, they contacted SportPesa and informed them about the ban by CAF to use feature another gaming company in the group stage matches and onwards.
"When we wrote to inform them about the CAF ban, SportPesa asked us to confirm in writing about the CAF ban, we contacted CAF and they gave us the confirmation which was then forwarded to them," claimed the official.
"They didn't reply and even after we reminded them but they still did not reply, later we told them, we have found a company that has no conflict of interest with them and we are seeking for sponsorship in the few CAF matches," said the official who said that they informed SportPesa that the goal was to get funds to reduce operational costs.
He added: After writing to them, they asked of the identity of the company, we responded quickly but later they replied that they did not agree with that and gave us another company and told us that if we do not agree, we should use the words 'Visit Tanzania'.
He said that after consultations with CAF they realized that the suggested company, too, had conflicts of interest with CAF's sponsors.
"When we wrote to them, they did not reply until now, Yanga saw it fit that we should enter into this contract because it is short-term," he said.
However, SportPesa's Relations and Communications Manager, Sabrina Msuya, said that the statement they gave earlier was the company's position, but she clarified that they were surprised to see Yanga introducing Haier before they could conclude their negotiations.
"We are aware that in the group stage we cannot appear on Yanga's jerseys and we discussed what to do including giving them LiveScore which they said is related to betting and has been rejected by CAF, we asked for written evidence knowing that LiveScore shows the results of the match and not betting," said Sabrina and explained that, while they were searching for an alternative, they saw their Yanga at night unveiling the jersey and announcing the new sponsor.
She said, they have already started to take action to protect their rights from the authorities, considering that they have a contract and the right to be on Yanga's jerseys for the 2022-2025 football seasons